Big plays ignite Warhawks in 35-7 win
The Warhawks were in desperate need of a spark on offense after they found themselves trailing by a touchdown against Nicholls State. Second year quarterback Chandler Rogers dropped back and saw his receiver Alred Luke with a defender nearby. The lurking defensive back had position and could easily have outplayed Luke to force an incompletion or pick Rogers off.
But Rogers threaded the needle to Luke and the freshman receiver took off and powered through multiple Colonel defenders for a 68-yard gain.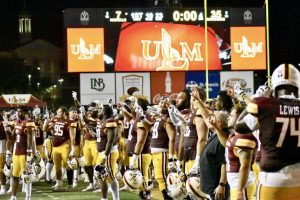 "Our strength is our receivers," Rogers said. "I have faith in them, no matter what the route is or who is covering them."
ULM found its spark. One play later, Andrew Henry turned a 2-yard run into six points. Now his team had a fire burning.
Four plays into Nicholls' subsequent drive, linebacker Tristan Driggers nabbed an interception and poured gasoline all over ULM's fire.
"I just felt like that interception could give us a spark," Driggers said. "It did and it showed."
The tie game evolved into a seven-point lead for ULM. When the clock hit zero in the fourth quarter, ULM stood tall with a 35-7 win over its in-state opponent. Most of the starters did not play in the final quarter. Celebrations had already begun on an energetic Warhawk sideline as they counted down to their first win of the young season.
"We have not had many games like this," head coach Terry Bowden said. "Maybe that's the first one since I've been here."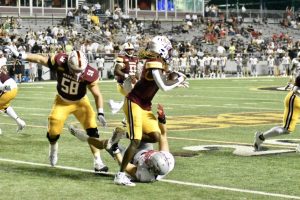 Part of the night's success came as a result of Rogers' effective pass distribution. He completed 20-of-25 passes and the majority of his five incompletions were drops instead of errant throws.
But Rogers didn't hold grudges for these drops. Ask Fred Lloyd Jr. Lloyd dropped a pass on a third-and-long that would have gotten a first down. Later in the game, Rogers saw Lloyd open again and rifled a pass that picked up 46 yards.
Rogers connected with tight end Zach Rasmussen and wide receiver Jevin Frett later in the game for a touchdown each.
Rogers added to the offensive showcase with a touchdown on the ground on a well-played quarterback draw.
While Rogers was on the sideline, his teammates on defense fought to earn him and the offense another drive.
And the defense didn't disappoint. The Colonels only converted six of their 16 third downs and the Warhawks shut them down on both of their fourth down attempts.
When all was said and done, the Warhawks bested the Colonels in every stat category. The Warhawks outgained Nicholls 424 yards to 306 and never turned the ball over. ULM also saw production from their offensive line, who didn't allow a sack throughout the game.
The team was firing on all cylinders, but with a look ahead, it's easy to see why getting this game right is of upmost importance.
After being tested in week one by Texas, ULM has another tall task ahead of them this weekend. The Warhawks have the Alabama Crimson Tide and their Heisman-winning quarterback Bryce Young to contend with in Denny-Bryant Stadium.