Author inspires sorority members during conference
The coliseum had a different look from its usual sports events last Saturday when Phi Mu hosted social media influencer and author Grace Valentine.
Valentine came to ULM as part of her book tour for her most recent publication, "What Will They Think?" The book released in July, and it speaks on nine women in the Bible who boldly lived out their faith.
The conference Valentine held in the Coliseum was titled "More Than Your Letters." She encouraged members of various sororities from ULM and Louisiana Tech to take advantage of the position they have as a member of a sorority and use it for God.
"It's a man-made creation, a sorority, but the beautiful thing about Christ is that God can take anything and use it for His good."
Having Valentine come to ULM was an exciting thing for many there and a successful end to a long project by Phi Mu members.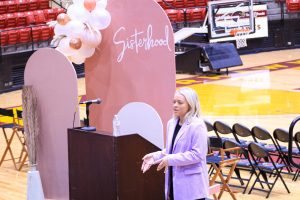 Sydni Ellen Littleton, the Vice President of chapter development for Phi Mu, helped create the event and said they started planning it last August after Sadie Robertson's Lo Sister Conference.
She found the atmosphere there to be positive and uplifting and said, "Why can't we have this in our sororities? That's what a sorority is meant to be."
Littleton wanted to bring this same atmosphere to Phi Mu, but then the project became bigger than she imagined.
"I wanted to bring it to Phi Mu, but then it kind of progressed into Greek Life as a whole, and then I was like why can't we just bring this to our whole community?" Littleton said.
Valentine encouraged all the girls there by speaking about her experiences from Greek life when she was in college and how that helped her grow into the woman she is today. She also emphasized the importance of keeping a relationship with God at the center, and how that is the only thing that can bring true unity to sororities.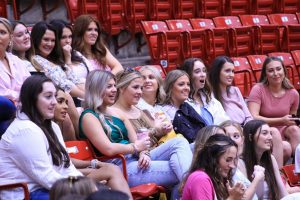 "Each of you can realize that you are seen and loved by God, and once you do that and stop fighting for center stage, you will realize you had sisters all along," Valentine said. "You'll be a better friend and you'll be more kind, more compassionate and you'll be more content in who you are and who you are not."
Those in attendance felt encouragement and love from Valentine. Tamara Driedger, a sophomore member of Kappa Delta, said the event was a great way to slow down and focus on the Lord after a busy week.
"I've been so busy with these past two weeks and just so emptied out with everything that I have going in my church and in my sorority," Driedger said. "It's just been so much that this just brings it all back together and in the sisterhood."
Everyone in attendance left with a renewed focus on the Lord and the environment they can create at ULM.
Phi Mu hopes to hold a similar event next year and reach more students and community members who aren't in sororities to build a sisterhood.