Where to go GREEN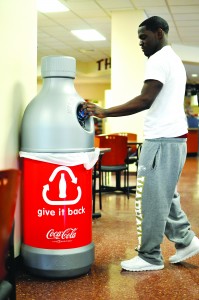 Got plastic, paper and aluminum to recycle?
Students and faculty at the University of Louisiana at Mon­roe are attempting to turn over a new leaf; a green leaf.
Kristi Gadwa, Wesley Foun­dation intern from Hoquiam, Washington, was shocked by the lack of recycling in Louisiana compared to her home town.
"Back home people recycle like crazy," said Gadwa.
Monroe has three businesses that receive items to recycle, Recycling Services on Arkansas Ave., Interstate Metals on Kan­sas Rd. and Central Pump Co. at Booth St.
Recycling Services take card­board, paper and plastic bottles, and is open five days a week. They are also in working collab­oration with ULM, providing recycling bins and dumpsters around campus.
For more information about the recycling bins on campus, students can contact Chris Ringo at the Physical Plant.
Interstate Metals Inc. takes almost any metal, but does not take batteries.
They also take aluminum cans and will pay for the recycled items brought.
The amount of payment de­pends on the amount of recy­cled items. They are also open five days a week.
Central Pump Co. recycles namely used car oil and is open Monday through Friday.
Payment will depend on if the oil is clean and will also depend on the weight of the clean oil.
However, if one does not want to go to any of these re­cycling places, Lauri Anderson, ULM geology professor, has some helpful suggestions:
-Don't be wasteful in printing off paper.-
-Unplug electrical items when not in-use (they still take in energy).-
-Buy and use recy­cled paper.-
-Change shower heads to use less water.-
"It takes a lot of people doing a little bit to make a difference, and a little bit goes a long way," said Anderson.
Anderson is looking to start a student led environmental group on campus.