Hazing Prevention Week promotes safety
Putting a handprint on a wood board may not look like much, but to ULM it is a commitment to safety and inclusion.
Last week, RSO's participated in Hazing Prevention Week to recognize the dangers of hazing and promote safety and integrity within their organizations.  Often viewed as a rite of passage or an initiation to an organization, hazing has long been overlooked as a harmless experience without consequence. However, hazing can quickly become a life-threatening or reputation-altering situation.
The Office of Student Advocacy and Accountability held different events throughout the week to spread awareness about hazing prevention. This information was not only important to members of Greek Like but also to every student organization on campus.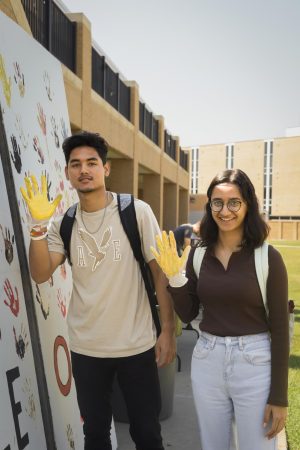 Director of Student Advocacy and Accountability Meghan Olinger said that hazing prevention is not only important for Greek Life and expressed that all organizations can benefit from Hazing Prevention training. "It can happen anywhere, at any time, and to anyone," Olinger said.
Studies from the University of Southern California have shown that 71% of those who are hazed suffer from negative consequences in their future. This can range from emotional and mental instability to physical illness or hospitalization.
All week long the "These Hands Don't Haze" board stood under the SUB overhang. Students came by and placed their handprints on the board in colorful paint to signify their support for hazing prevention.  
Greek Life presented a hazing prevention training video in the Hangar Monday afternoon available for all students. Fraternities and sororities have taken a stand against hazing at ULM by promoting safety and responsibility.  
"Hazing prevention training is important to show organizations what exactly hazing is and steps we can take to prevent it," Tony Velasquez, senior member of Delta Sigma Phi Fraternity said.
Velasquez explained that with a new generation of students coming to ULM every year, being knowledgeable about safety is crucial to keeping everyone safe.
Events like these give ULM the opportunity to build community among the Warhawk family and spread awareness about actions that could potentially harm students.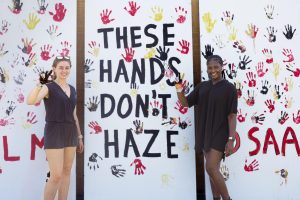 It is important for incoming students to get involved in organizations for a sense of involvement, friendship, and belonging.
Kiauna Rollins, a member of Sigma Gamma Rho Sorority highlighted the importance of hazing prevention and how the training helps keep everyone accountable creating an overall safe campus environment.
"Students should never feel the need to put themselves in harm's way or strain themselves to belong," Rollins said.
Whether students are in a fraternity or play for the marching band, they are all a part of the Warhawk community and should be aware of the dangers of hazing.