Warhawks bounce back in 4-1 blowout
After a convincing 4-1 win over Southern Mississippi, Warhawk Soccer earned its first conference win, and elevated its conference record to 1-1. A disappointing loss during the conference opener to Appalachian State provided a necessary learning experience, after which the Warhawks were ready to return home motivated and hungry for a win.
Though the first half began a tad slow, Mara Grutkamp upped the momentum when she found her sixth assist of the season -tying her at 11th in the nation- and connected with Inge Konst in the 27th minute to give the Warhawks an early lead.
The 58th minute included Konst conjuring up a skillful corner kick that met with a Southern Miss defender, ultimately finding its way to the right side of the goal and into the back of the net. The costly own goal not only put the Warhawks ahead 2-0, but it also ignited the team's fiery offensive tempo.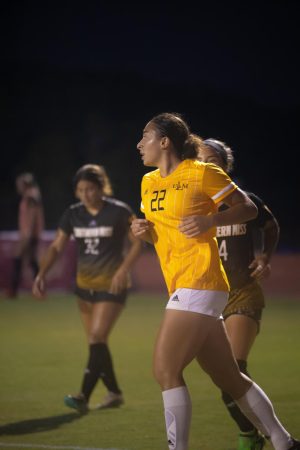 With a lot more soccer to play and a driving team, Grutkamp found herself on the scoring side of an offensive interaction when Eve Blakey set her up for a clean shot, giving the Warhawks their third goal of the match.
In the 82nd minute, the field turned electric as 2021's leading scorer Courtney Marten was subbed into the match for ULM. Anyone with a pulse knew that she meant business, and she was going to find her way to the back of the net. In a single minute, Marten went from entering the pitch to turning around to see her team jubilant over her break-neck speed goal.
ULM left Southern Miss with ruffled feathers as the Warhawks now had four goals unanswered and not much time left to respond.
With less than three minutes left to play, a low shot slipped by Warhawk defenders and gave the Lady Eagles their only goal of the match as they avoided a shutout. The clock allowed little else to be done, and ULM gained their first conference win of the season.
The soccer team posted their best offensive efficiency of the season so far with all three shots on goal landing in the net, in addition to the own goal off of Konst's corner kick.
The Warhawks host their next game on Saturday, Oct. 1 against the Marshall Thundering Herd. It will be the first matchup between the two teams.