Defense seals win over reigning Sun Belt champs
Warhawk fans, rejoice. Rejoice at the fact that the insufferable Ragin' Cajuns—who were pinned by many experts to repeat as Sun Belt Conference Champions—were forcefully sent spiraling back to reality Saturday by a Warhawk program who heard enough from the self-proclaimed "University of Louisiana."
But this year's highly-anticipated edition of the hottest rivalry in Louisiana channeled the tension all the way to the final play of the game.
ULM defensive lineman Caleb Thomas and linebacker Fitzroy Gardner broke through the ULL offensive line and dropped Chandler Fields on the 50-yard line as the clock expired in the fourth quarter.
Fans, players and coaches glared at the scoreboard in awe as the final second ticked away below the south end zone scoreboard that read "Warhawks: 21. Ragin' Cajuns: 17."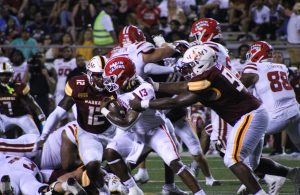 Head coach Terry Bowden regarded this win as arguably his most meaningful since his arrival at ULM. He described the victory as "the shot in the arm" his program has desperately needed.
"Some W's just mean more than other W's," Bowden said.
The path to the victory was paved with busted and broken offensive drives that wound up dead and an unrelenting defense that loyally fought to give their offense another chance at mounting a comeback.
ULM's 10-point deficit at halftime was chalked up by Bowden to the mountain of mishaps up to that point.
"We were dropping balls, had an interception, had three-and-outs," quarterback Chandler Rogers said." With our defense playing the way they did, it kept us in the game."
The Ragin' Cajuns picked up the Warhawks' bad habits when they walked out of the locker room after halftime. ULL's special teams unit bore the brunt of the mistakes.
With a chance to go up 13 via a field goal, ULL's holder missed the snap and scrambled to get a pass off, but instead sent it out the back of the end zone. Another mishandled ball—this time by the Cajuns' punter—gave ULM a chance to score on the ULL 5-yard line.
And then after ULM took its final 21-17 lead, ULL's Fields gifted the Warhawks with an interception.
And as the game progressed, ULM adjusted from trying to force the passing game and dug in to the run game. Outside of a connection to Tyrone Howell that he took for the majority of 89 yards, Rogers only had 103 yards passing.
Meanwhile Andrew Henry had a career-high 123 yards rushing that was bolstered by a 75-yard rushing touchdown on ULM's second drive. Even with the pressure on Henry and the offense, the junior running back said they "weren't nervous."
Bowden's Warhawks travel to Jonesboro, Arkansas this Saturday to face off with the SBC's Arkansas Red Wolves. ULM aims to end its 10-game losing streak to Arkansas and earn its first road win of the Bowden era.