AKA holds educational, fun events for students
Alpha Kappa Alpha held multiple events during their annual week of observance—known as Skee-Week.
Swapping spy gadgets for sisterhood, the week's theme was inspired by childhood favorite show "Kim Possible."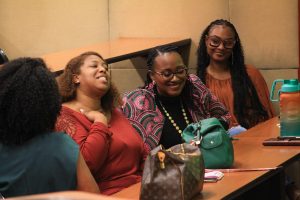 Each day throughout the week AKA had a different mission shown through that day's events that correlated to the sorority's new initiatives.
AKA hosted educational events, but they also had fun events that welcomed students to use their creative side.
On Monday evening, many students gathered at the Activity Center where they were taught some new dance moves. This gave students an opportunity to relieve some stress in a fun-filled way.
The sorority held another easy-going, creative event on Thursday called Painting with the Pretty Girls. Students were given the option of painting a portrait of Kim Possible or her mole-rat friend Rufus.
Senior nursing major Zorria Williams said that the event made her realize how much she likes to paint. She found the event's atmosphere to be relaxing.
"It was something anyone could do and be comfortable with," Zorria Williams said. "It was a way to channel creativity."
By the end of the week, Painting with the Pretty Girls managed to be the most attended event.
A Voters Registration Drive, Suicide Prevention Informational and Black Business Instagram Highlight were only a few of the informative events by AKA.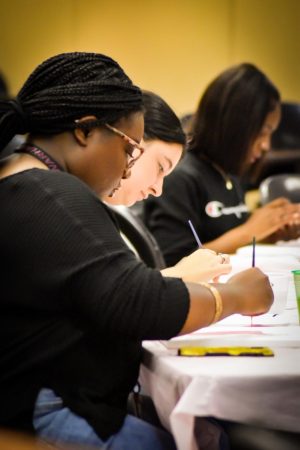 They also collaborated with Alpha Phi Alpha to host a forum that discussed the professional programs at ULM.
The Pink Table Talk on relationships and mental health was another popular event.
Katie Meno, junior political science major and AKA member, said the Pink Table Talk had a great topic because knowing the effects of mental health and relationships is important, not only in college but also afterward.
Four panelists led the conversation and answered questions presented by students. Many asked about things to expect and important aspects in their own relationships.
The panelists stressed the importance of communication, trust and honesty in both dating and marriage.
"Each perspective was helpful," Meno said. "Each person gave advice that was different and interesting to hear."
In total, AKA created eight events for students. AKA's Theta Zeta Chapter President Averyona Williams said that she hopes these events impact students and remind them to "prioritize their mental health in every way."
With such welcoming and refreshing events, students broke out of their comfort zones more easily. AKA educated others while giving students an outlet for creativity this week.
Averyona Williams said, "We hope that we have encouraged students to use their voice, be brave and try new things."