BKFC sends shockwaves throughout Monroe
Northeast Louisiana came down with a case of bare-knuckle fighting fever last Saturday. The afflicted crammed their way into Fant-Ewing Coliseum to find their cure, but nobody realized how strong of a dose they were set to receive.
Louisiana's first legal bare-knuckle fight in over 100 years came courtesy of Bare Knuckle Fighting Championship as Monroe hosted BKFC 30.
This event marked their first exposure to the promotion and the combat sport for many who made their way onto ULM's campus. They found no shortage of action. The only two decisions of the night came in the two preliminary fights. The seven matches on the main card ended with one TKO and six knockouts. No fights reached the final round and the shortest fight was a mere 19 seconds.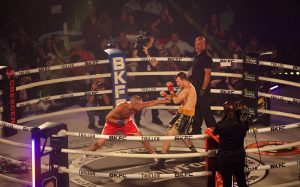 The fans abandoned their seats fight after fight until the electric crowd all stood for the main event.
"This event tops everything I've been to before," junior psychology major Devin Hudson said.
It wasn't just locals turning out for the event. Fans adventured from Arkansas and Mississippi to catch the historic event, and students from different schools made their way to ULM.
John Waskom, a junior from Louisiana Tech called the night "unforgettable" and hopes it's not the last that Louisiana sees of BKFC.
"You never see events like this come to college campuses," Waskom said. "Seeing this in person was totally insane."
The night ended in a frenzied title bout between two one-loss fighters. In one corner, a West Monroe native seeking a win in his backyard. While in the other corner the promotion's self-proclaimed juggernaut aimed to continue his path of rage through BKFC.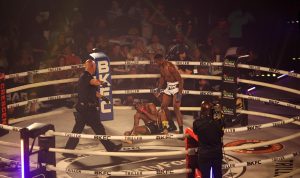 Both were vying for the vacated cruiserweight title.
The hometown hero Quentin Henry found out that movies and real life are unfortunately quite different. His wake-up call came in the form of a bare-knuckle punch in the face from the rock star persona of Lorenzo Hunt who claimed his second BKFC title.
After a dirty hit took an already prone Henry out of consciousness, his opponent thought he would take the win via disqualification.
But Henry wanted to put on a show. After both fighters had the other shaken up with numerous shots to the face, Hunt sent Henry down to the mat with under 30 seconds remaining in the third round.
As the deafening boos and the occasional cheer echoed in Fant-Ewing, fans found themselves on the ropes as they took in what they witnessed over the past four hours. As they made their way to the parking lot, it hit them like one of the thousands of punches they watched.
They witnessed history being made in Monroe.