Celebrities should not use artifacts as props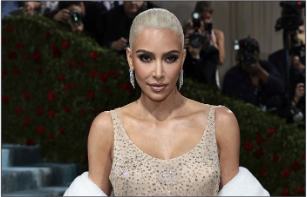 If one of the arms fell off the Statue of David, I doubt that Michelangelo would want it used as a backscratcher. This scenario sounds outlandish, but its pop culture equivalent is now quite the phenomenon among celebrities.
Between Kim Kardashian sporting Marilyn Monroe's iconic "Happy Birthday, Mr. President" dress at the Met Gala and Lizzo playing James Madison's crystal flute at a D.C. concert, it seems to be gaining popularity for artists to use historical pieces as props.
Here lies the issue with this. Handling, gifting or taking photos with iconic pieces is one thing, but performing with and wearing them is another, especially for long periods of time.
There is too much risk in putting extra wear and tear on an item already ancient—crystal, fabric or otherwise. While a piece belongs to a public gallery or even someone else's private collection, it should be treated as an artifact and left alone.
The backlash from these events was instantaneous. As soon as Kardashian announced her dress choice, people called her toxic and disrespectful for allegedly destroying the image of the dress.
The reactions to Lizzo's crystal flute concert were not as unanimous—but those who hated it really hated it. Some history buffs called the event a tragedy and said Lizzo had defiled the flute by playing it.
The aftermath is the main difference between Kardashian wearing the dress and Lizzo playing the flute. Marilyn Monroe's dress was irreparably damaged after the events of the Met Gala, while James Madison's flute remained unchanged. Still, there stood a considerable chance that the flute could have been dropped and broken at any moment.
If a celebrity would like to honor a historical figure to this extent, it should be their responsibility to purchase the item for their personal use. If it is not for sale, then it's just not meant to be.