Pharmacy students hold voter registration drive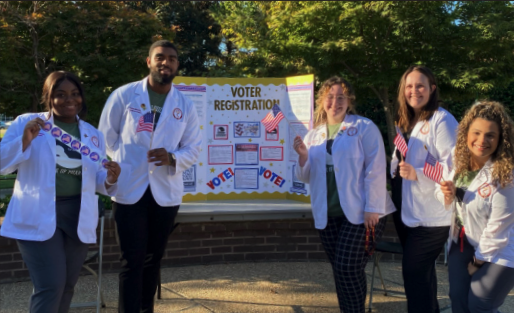 With the midterm elections coming up fast, many students are encouraging their peers to get registered to vote and make their voices heard.
With the crisp morning air and sunny weather on its side, the Student National Pharmaceutical Association held a voter registration drive on Wednesday in the Quad.
The organization set up a table with a board on the importance of voting along with stickers and American flags. SNPhA emphasized the importance of everyone being involved in the upcoming election.
The drive was held in an effort to show students what SNPhA's mission is—to serve the underserved. By holding a voter registration drive, students who were unable to register otherwise or did not know how were able to register themselves to vote just in time for the midterms.
Many students have expressed concern that their voice will not be heard in this upcoming election, but Mary Marshall, a pharmacy student and member of SNPhA, wanted students to remember how important their vote is.
"Your voice may seem very small and insignificant, but it takes everyone in the community doing their part to really see a difference," Marshall said.
Many students the association encountered Wednesday were already registered to vote, but there were some students who stopped by and registered or got some important information about the elections.
"We educated students on who their current representatives were and encouraged them to take advantage of their right to vote," Marshall said. "It was very rewarding to see hesitant potential voters understand the importance and make the choice to register."
The upcoming election has many students split in their opinions, but SNPhA only wanted to encourage students to participate in the election process.
Each student that registered was given a sticker and a high five from a member of SNPhA. The drive took place for two hours on Wednesday, and each student that came by left with a renewed perspective on the importance of voting.