'Hawktober' bridges gap between students, alumni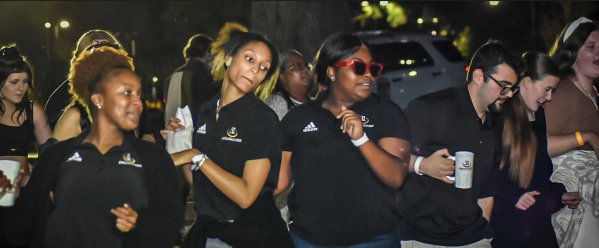 Warhawks raised a glass with faculty and alumni on Tuesday at the annual Hawktober Fest. With enough live music, beer and food to go around for everyone, the festival raged on throughout the night.
Hosted by 31 Ambassadors, Hawktober Fest began as a Homecoming tradition four years ago. The celebration is a unique way for students and alumni to come together during homecoming week and share a drink.
The festival also gives local breweries a chance to showcase some of their most recent beers. The event featured drinks from breweries such as Flying Heart, Urban South, Goose Island and several others.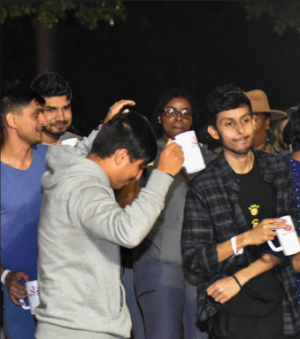 Julia Hogan, a senior elementary education major loved this aspect of the festival as it strayed away from what she is used to seeing.
"You get to try all the different breweries that are local and from Shreveport[…]it's not just your normal Bud Light beers," said Hogan.
For students who were not yet of legal age or did not want to drink, 31 Ambassadors also offered a mocktail bar that featured three non-alcoholic drinks: Berry's Pick, The Warhawk Way and the Mighty Monroe Mojito. The inclusion of the mocktail bar created an inviting experience for everyone to come and enjoy the night.
The live band offered those in attendance the opportunity to listen to amazing covers and original songs. The music made the already entertaining night more electrifying.
Senior computer information systems major Michael Brown said he enjoyed the beer and the German-inspired food the entire night.
The Laird Weems Alumni Center played host to the event to try and bridge the gap between past and future generations of Warhawks. Students and alumni swapped stories throughout the night of their days in college.
Each person that bought a ticket to the event was given a cup with the Hawktober Fest logo to hold the drinks they would try throughout the night.
31 Ambassadors also set up yard games like cornhole and tic-tac-toe for everyone to play as they enjoyed their drinks. Whether you wanted to sit down, dance around or play some fun games, Hawktober Fest had something for everyone.
With fall rolling in on the bayou and clear skies ahead, those in attendance chose to sit under the stars and enjoy the company.
Everyone had a great time at Hawktober Fest. The event gave students a chance to relax and enjoy Homecoming before midterms and gave alumni the chance to enjoy their alma mater in a new way.
Even when the night was coming to a close, Brown said that even though he had been there all night, he was "still having fun."