Parade shows best of 'The Warhawk Way'
On a brisk fall afternoon, Warhawk fans line the streets awaiting the annual ULM Homecoming Parade. The beating drums of the Sound of Today marching band brought people to their feet. Here comes Ace the Warhawk riding in his signature P-40 Warhawk plane. And along with him the 2022 homecoming court, Miss and Mr. ULM and a number of other faces that represent the Best on the Bayou.
The homecoming parade kicks off homecoming week in preparation for the football game the following Saturday. Homecoming week is one of the most important times at ULM, and every year there is a theme for the week of festivities. This year, the week was called "The Warhawk Way".
Right behind our lovable mascot comes the presentation of the flags, one from every country of origin, of all the international students at ULM. The Hawkline, the cheer team and the marching band rounded the corner playing their instruments and dancing in unison.
Miss and Mr. ULM came next, leading a line of cars with other notable members of the Monroe community. Riding along was President Ronald Berry and First Lady Christine Berry, Monroe Mayor Friday Ellis and family and head football coach Terry Bowden.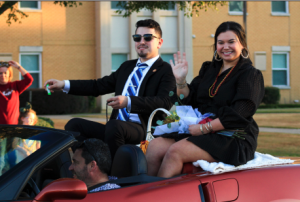 "I loved seeing how the community came out to support," Miss ULM Asja Jordan said. "In my last month as Miss ULM, I want to be as involved as possible here to show my love for this university and community that has done so much for me!"
The beautiful homecoming court maids and their beaus rode in their cars, dressed to impress for the occasion.
Junior Beau and SGA Vice President David Hernandez explained that being on homecoming court was an honor that made the parade that much more special.
Hernandez said, "This experience to me is something I've never had before, and it embodies the Warhawk Spirit and the connection we have with our community."
Students cheered excitedly as RSO members threw candy and treats from their floats. The Krewe of Janus and Krew De Riviere floated by too, tossing Mardi Gras beads and cups.
"The parade was such a blast," junior agribusiness major Brady Mckay said. "There's nothing sweeter for a Warhawk fan than to hear that Warhawk band."
Shouting and waving from their float was the football team, gearing up for their big game and sharing that excitement with the rest of the Warhawks. With a triumph over ULL and a successful season so far, the players have all eyes on them from the fans.
Homecoming traditions like the parade are a way for the university to bring out a sense of pride in the community and keep the Warhawk spirit going for football season.