Zydeco Night, fireworks kick off week of festivities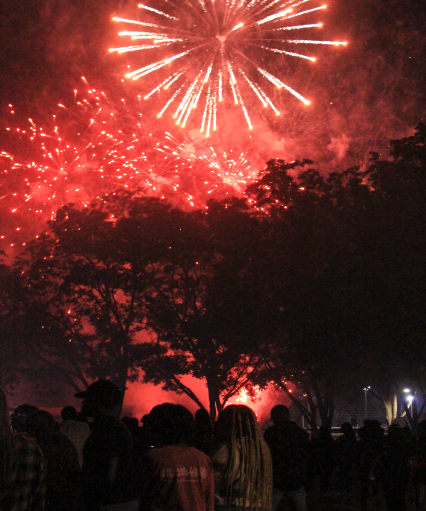 The dull thumping of footsteps stomping the ground fills the air as people spin around to the tune of Creole music. Suddenly, everyone takes a pause as fireworks sound and bright colors light up the sky. This was Zydeco Night.
The NAACP hosted Zydeco Night on Oct. 3 to honor ethnic Creole roots with a swing-like dance.
Zydeco was at the center of the event. NAACP members stood on the Grove stage teaching students many different line dances.
"The purpose of this event was to come together and have fun while dancing Zydeco," NAACP member Gabriel Smith said.
After dancing, the firework show began. Everyone stood in awe as an array of colors shot into the dark sky.
Freshman pre-rad tech major Ja'Niya Cheffin hopes that this was the first event of many.
"Zydeco Night was so much fun because everyone who came participated," Cheffin said.
While Zydeco Night was intended to be a relaxing night for students, it also celebrated Creole heritage and culture.
Dancing to music originally created by Creoles gave many people from various cultures the opportunity to learn more about Louisiana.
Celebrating different ethnicities commemorates diversity and unites us, which brings awareness to the idea that we are all diverse and we all have something to contribute to society.
Zydeco is a music genre that blends blues, rhythm, and music indigenous to Louisiana. The genre originated in southwest Louisiana from French Creoles.
Although some act as though Cajuns and Creoles are the same people group, they each have their own culture.
According to the organization Public People, Cajuns have origins in Canada while Creoles have origins in Spain, Africa, the Caribbean and many other regions.
Early zydeco music offered a way for the rural poor both to express and escape the hardships of life through music and dance.
"Zydeco to me means [Creole] music. It is what our ancestors listened to and what we built on to get our music today," freshman atmospheric science major Isabelle Zeringue said.
Zydeco Night brought laughter and joy into the hearts of many. Every person who walked into the event walked out with a smile on their face.