Students, faculty compete in all-star basketball game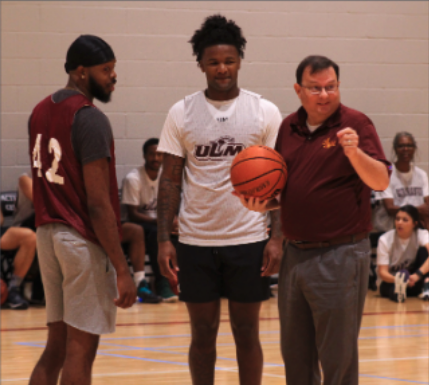 Last Friday was not your average basketball game. Students were pumped up to duke it out with their professional opponents. Cheers filled the air as faculty members ran onto the court.
Field's First Friday All-Star Game kicked off the inaugural faculty and staff versus students basketball game on Friday afternoon. This event gave students the opportunity to gear up and compete against their favorite faculty and staff members.
Led by Vice President of Student Affairs Valerie Fields and former Warhawk women's basketball player Hannah Edwards, the student team included both student-athletes and non-athletes. On the opposing side, led by Vice President of Academic Affairs Mark Arant and communication graduate assistant Bryce Lovelady, was the faculty team from many different departments.
"I loved being a student coach," Bryce Love-lady said. "I wasn't focused on winning. I was more focused on every faculty member on my team having fun."
The faculty and staff put up a good fight with 34 points scored overall. However, the students dominated in the end with 66 points. It was awesome to see all the faculty and students there having fun," sophomore Warhawk men's basketball player Edwin Litolff said.
Down the court and back again, the students snagged the ball and the faculty fought for it back. ULM staff members gave it their all as they raced down the court guarding players from the student team with no fear.
"I most enjoyed the camaraderie between the student and faculty staff teams," interim athletic director Seth Hall said. "Even though the students showed no mercy, it was fun to go at each other."
The faculty and staff team played with pas-sion, but the students refused to back down. The student team took home the win, however all the players received a medal in honor of their game. Winner or not, the laughter and excitement of the game made it worthwhile.
Even with the student team nearly doubling the score of the faculty and staff team, the game was more than interesting to watch.