NPHC competes for awards at Fright Night Step Show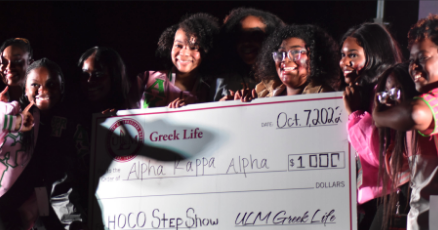 The National Pan-Hellenic Council stepped out Fri-day for the annual Greek Life Step Show at Fant-Ewing Coliseum. Students, alumni and friends all gathered to support their favorite Greek organizations and watch them battle it out for the $1,000 prize for overall best group.
The show, emceed by DJ Twins, began at 9:30 p.m. and featured all kinds of fun music that had the crowd on their feet.
The ladies of Alpha Kappa Alpha took home first place in the sorority division and received $1,000 in prize money. The ladies were dressed in black with green socks and a cropped jacket in their signature pink color with a haunting ritual theme. They put a spell over the crowd with their performance.
Alissa Lane, a participant in the Step Show and a Member of AKA, shared the hard work the ladies put into their performance."We put in a lot of hours to make this happen and it was worth it," Lane said. "It was an amazing experience, and I would definitely do it again."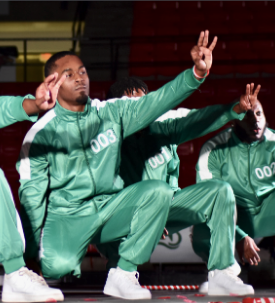 The men of Alpha Phi Alpha were awarded $1,000 along with first place in the fraternity division with their "Purge" themed performance and amazing stunts. Dressed in black with their Greek letters painted in gold, they had the crowd on their feet with their performance. The event lasted two hours, and everyone danced and cheered the entire night. School spirit was alive and well throughout the entirety of the Step Show. Randall Hughes, junior occupational therapy assistant student and audience member at the Step Show, believes that events like this bring light to the diversity on campus.
The sororities and fraternities let their spooky side through to match the Fright Night theme for the event. One fraternity wore jumpsuits that matched the ones that characters wore in the popular Netflix show "Squid Game."
"The theme was executed so well by the organizations, and I loved getting to watch the show," Hughes said. Many alumni attended the Step Show, supporting their letters and alma mater. Alfred Garrison, an alum-nus from Spring 1999, spoke on how exciting it was to see his graduating class "coming home" and why the Step Show is important for alumni.
"It's necessary to keep school spirit alive," Garrison said. "Events like this keep the comradery of the alumni that come back, and it is a tool for organizations to recruit."