ULM ambushed by aggressive Jaguars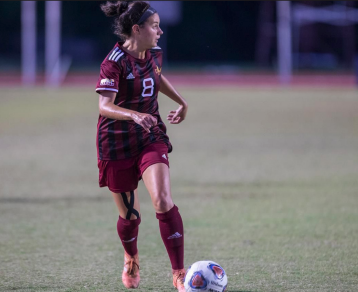 The Warhawks traveled to South Alabama Thursday looking for a second conference play win but quickly realized the Jaguars were ready for competition.
South Alabama played more aggressively and had a consistent defense. While ULM put up a few good plays, it wasn't enough to win. After holding a lead all game, South Alabama finished with a 4-1 victory.
The Jaguars took the lead early on with Jasmine Greene scoring within the second minute of the game.
The rest of the first half took a standstill with no goals scored on either side. ULM took two shots that missed high above the goal and USA took one. ULM goalkeeper Mickaela Leal also made a save in the first half South Alabama struck again at the beginning of the second half in the 47th minute. Imane Addi took a shot up-and-over Leal—doubling the Jaguars' lead.
Another score hit ULM's goal in the 51st minute by Morgan Cross. South Alabama managed to keep the ball on the Warhawks' side of the field for most of the game.
Aggressive defense by the Jaguars left ULM with a hard time getting near the goal box. There seemed to be a lack of creative goal play and no strong effort to get on top of the ball.
USA scored its last goal in the 55th minute when Monique Gray found the back of the net. No scoring drives were made in the next 35 minutes.
Efi Brame took a goal shot just in time to avoid a shutout, leaving the final score at 4-1.
Going into the game ULM led the Sun Belt in shots and shots per game. That was not the case in this game, as ULM took five shots while the Jaguars took 13.
This team went undefeated in non-conference play. Now out of five Sun Belt games, the Warhawks have only taken home one win.
ULM will try to recreate the momentum they once had before conference play with a win vs in-state rival Louisiana-Lafayette on Sunday, October 16 in Brown Stadium.