Rogers' play not enough in loss to Coastal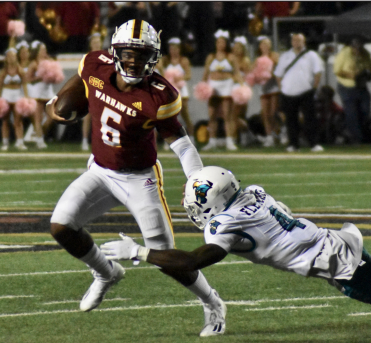 ULM quarterback Chandler Rogers played perfect in the first half of Saturday's Sun Belt Conference showdown with the 5-0 Coastal Carolina Chanticleers.
He started the game 19-for-19 passing to set a new school record for consecutive completions. He avoided becoming another victim to the Chanticleers' defense that leads the nation in turnovers. ULM kept one of the nation's deadliest offenses off of the scoreboard after halftime.
ULM looked poised to grab a statement win and knock off the SBC powerhouse, but a handful of offensive plays and a defense that ULM head coach Terry Bowden said, "didn't do anything in the first half," soiled the Warhawks' homecoming night with a 28-21 loss and dropped their record down to 2-4.
The multi-dimensional offense that Coastal Carolina runs scorched ULM throughout the first 30 minutes. The slew of run-passoption plays are bound to find a defender uncertain when they're ran by a consistent running back like Coastal's CJ Beasley and a dual-threat quarterback like the two-time SBC Player of the Year quarterback Grayson McCall.
As part of Rogers' historic night, he matched—and eventually eclipsed—McCall. But Rogers focused only on searching for a win. Rogers said he didn't know he set a record until after the game.
Disaster began as ULM creeped into the red zone on its third drive of the night. The Chanticleers recovered a fumbled handoff while already boasting a seven-point lead over ULM.
In response, the Warhawks got their only defensive stop of the first half. They had allowed three touchdowns up to this point and allowed one more before the first half expired.
Coming out of halftime, ULM trailed by two touchdowns. Rogers stretched the defense before taking a kill shot to Tyrone Howell. Howell nabbed the pass with one hand through pass interference to cut the Coastal lead back down to one score.
But the remaining 27 minutes of football ticked away without another score.
Rogers only threw three incompletions in the entire game—all in the second half—and two of them were the difference between victory and defeat.
The Chanticleers broke up a fourth-andone pass on the goal line to snap his completion streak and deprive ULM of a score to tie the game.
His other major incompletion came on fourth-and-two in the red zone with four minutes left in the contest. He targeted a receiver at the back of the end zone, but the Chanticleers blitzed and sent Rogers' throw over his receiver.
Bowden said it's not that ULM shut down in the second half, but that the team "didn't make the finishing plays that you have to make," to beat a team on Coastal Carolina's level.
Sun Belt play continues on the road this weekend as ULM faces the South Alabama Jaguars.