ULM honors Hispanic Heritage
ULM's Office of International and Multicultural Affairs celebrated Hispanic Heritage Month last week with events highlighting Hispanic culture. Throughout the week, students experienced music, food and entertainment from Hispanic cultures. These events recognized Hispanic Americans' culture, history and contributions.
Gina White, Director of International and Multicultural Affairs, said, "We love experiencing, embracing and learning about all cultures and more importantly Hispanic culture this week."
Nuestras Voces was displayed on ULM Global's Instagram on Monday afternoon. This featured English professor Anahy Mejia telling the story of her immigration and culture. She moved to the U.S. at 11 years old and experienced heavy culture shock. Her experience has pushed her to help others feel like they belong.
Tuesday night, the organization hosted "Taco Theater". The Hispanic horror/mystery film "La Llorona" played at Bayou Pointe along with a taco bar set up where students could build their own tacos.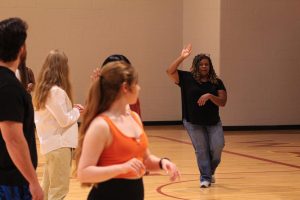 The movie told the story of a Latin American folklore ghost who haunts children.
On Wednesday, a dine-and-learn celebration was held at the Hangar. This event gave students the chance to listen to some traditional Hispanic music while eating Mexican food.
Mejia returned for this event to speak about Mexican culture. She taught the crowd how to perform a grito, a loud shout to express joy and pride.
World languages professor Ignacio Arellano Torres spoke about festivals from his country of Spain, such as The Running of the Bulls, La Tomatina and The Catalan Festival.
Senior business administration major Marie Diouf enjoyed hearing about Hispanic culture from two different sides of the world.
"They both came from countries that speak Spanish, but the cultures are different from one another", Diouf said. "I think that's what makes Hispanic culture so beautiful."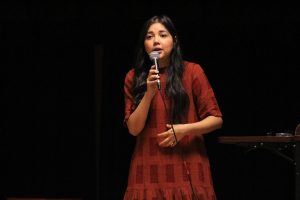 A Bachata and Salsa night took place at the activity center on Thursday, where students learned the steps to a traditional Latin Salsa dance.
The instructor explained some of the history surrounding Salsa music and how it was brought to America by Puerto Ricans. Step by step, she showed participants how to spin and twirl like a true Salsa Dancer. Freshman agricultural business major Chloe Powell put her dance skills to the test as she learned a new style.
"As a dancer, I always love to learn new styles, so when I heard there was going to be a Salsa night I had to go," Powell said. "It was a great way for people to connect and learn new things about different cultures."
To wrap up the week, the cafeteria served traditional Latin cuisine. Students and faculty were able to try Mexican rice, corn and strawberry peach sopapillas. Even President Ronald Berry came out to try Hispanic delights. He recommended that every student should try to broaden their taste by trying food from different cultures.
Events like these give the ULM community a chance to learn about a culture different from where they grew up and allow them to experience food, music, and fun from around the world.
By experiencing pieces of other cultures, students can broaden their understanding and appreciation of them.