Chili cook-off creates spicy competition in community
Chilly days and a bowl of chili are a match made in
heaven.
In honor of the late Don Weems, ULM 31 Ambassadors
club and the ULM Alumni Association hosted the 37th
annual Don Weems Memorial Chili Cook-Offff. Student
and open division teams competed against one another
to decide who cooked the best chili on the bayou.
ThThe chili tasting took place in Pecan Grove at the ULM
versus Texas State football game tailgate.
ThThis event brought out many people for both military
appreciation day and family day at the school.
Many parents joined their kids for a day of chili tasting
and tailgating.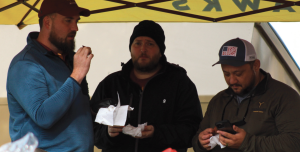 Alumni Allison Davis and her team took home the prize
for the open division this year with their spicy and savory
blend.
As an alumna of ULM, Davis was honored to represent
her university again as a competitor and winner.
ThThe judges weren't the only ones to enjoy Davis' freshly
cooked flflavors.
"ThTheir chili was defifinitely the best and I'm glad the
judges agreed," junior construction management major
Rikesh Patel said. "I'm glad I got to come out here and try
some delicious chili before the game."
Pi Kappa Alpha fraternity took home the student division
prize. ThThis is the fourth year in a row that the group has
placed or received the people's choice award.
ThThe cook-offff was originally started by Tom Deal, Frank
Elkin III and Don Weems himself. ThThe tradition has been
carried on every year at football tailgates.
Many groups get into the spirit of the cook-offff and bring
the heat in more than just their cooking.
ThThe team 7308 Chili Heads went all in with their chili
pepper costumes, pompoms and ULM gear.
ThThe trio named their team after the room number in
Bayou Village during their years at ULM.
"We got inspired to compete because one of us is a Mexican
food afificionado," alumnus Dwayne Hammer said.
"We created a recipe using barrio broth in the chili to give
it that cinnamon, Hispanic taste."
Judging the chili was a panel consisting of community
members, alumni, students and faculty from ULM.
Homecoming Queen Raquelle Franklin and King Jesse
Drake were among some of the judges to pick the winners.
"I think the best kind of chili has rice, rice, and more
rice," Drake said. "And of course the exceptional seasoned
chili taste."
ThThe chili cook-offff brought together students, families,
alumni and the community to celebrate the fun of ULM
football and honor the legacy of Don Weems.