'Street Scene' surprises, shocks students
Walking into Brown Theatre on opening
night, the audience could feel the excitement
radiating from behind the curtain. Tension
built as the premiere inched closer.
Recreating the iconic opera "Street Scene"
may seem like an impossible task for college
students. Even with this daunting task
ahead, the ULM Visual and Performing Arts
program put on an amazing production,
wowing students and faculty.
"There was a really nice plot and plot twists
that I didn't expect from a college production,"
freshman pre-pharmacy major Cayden
Hatok said.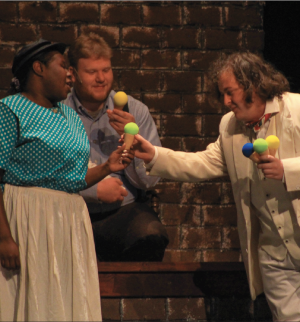 Set in the slums of 1940s New York City,
"Street Scene" is not your normal opera. It
combines 1800s opera with a realistic portrayal
of America. The modern-day opera
tells the story of the broken Maurrant family.
Over two days in the brutal New York heat,
the Maurrant family experiences unspeakable
tragedy and heartbreak. The message
at the heart of the Maurrants' story is the
importance of family and the conquering nature
of love.
The production transported the audience to
1940s America. The actors engaged with the
audience by immersing themselves in their
characters. Mrs. Maurrant's solos about lost
love were absolutely heart-wrenching.
The duet between Rose Maurrant and Sam
Kaplan, two star-crossed lovers, sounded like
sung poetry. The audience laughed at the
cast's performance of the famed "Ice Cream
Septet" and was disgusted at Harry Easter's
relationship with Rose in "Wouldn't You Like
to be on Broadway."
"I was surprised by how invested each of the
actors were in their roles," freshman pre-kinesiology
major Abby Kigerl said.
The orchestra performed each song entrancingly.
Playing over 25 musical arrangements,
the 20-piece orchestra flowed between songs
seamlessly.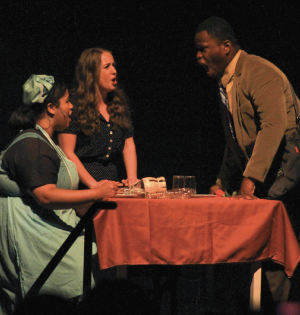 All the songs remained unique and entertaining.
The work of the orchestra was not
forgotten as the actors onstage paid tribute to
their fantastic performance.
"I didn't expect to love it as much as I did,"
freshman political science major Mallory
LaBoeuf said. "The singing was incredible
and the live orchestra was so cool."
Each performance of "Street Scene" was
dedicated in memory of Derle Long. The acclaimed
band director spent 22 years growing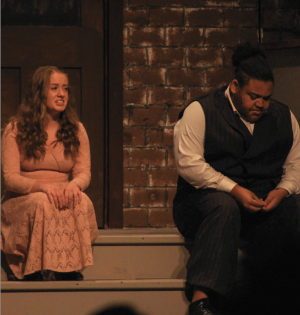 ULM's VAPA program. Street Scene was the
last production Long worked on, serving as a
memorable tribute to an amazing musician.
The production crew was the unspoken
hero of the performance, manipulating lights
and creating sounds that kept the audience
on the edge of their seats. The amazing production
of "Street Scene" could not have
come to life without the theatre staff.
As the cast sang the closing reprise of "Ain't
It Awful, The Heat?", the walls of Brown Theater
shook from applause. The four-day run
of Street Scene officially ended with a bang.