ULM survives 31-30 thriller versus Bobcats
ULM and Texas State were a little late to the Halloween festivities, but they brought enough frightening, stress-inducing moments in Saturday's matchup to make up for it.
Both teams committed tragically humorous mishaps that resulted in ULM's 31-30 victory.
The Warhawks got a fourth-and-long stop to take the ball from Texas State while already possessing a one-point lead over the Bobcats. But in preparation for the holidays, ULM gave Texas State an early gift—the last of four Warhawk turnovers on the day. The Bobcats stripped the ball from quarterback Chandler Rogers and then had their warming up on the sidelines with just 1:30 left in the game.
But Texas State capped off the game with a self-inflicted wound. Kicker Seth Keller, who was a perfect 3-for-3 up to this point in the game, sent the kick up and completely missed the uprights to allow ULM (3-6, 2-3 Sun Belt) to survive 31-30.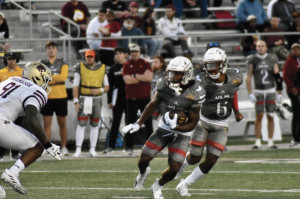 ULM coach Terry Bowden found humor in the miraculous conclusion to ULM's third win of the season. "I don't know if there's a better way to lose a football game than what we did tonight," Bowden said. "But that's maybe the most enjoyable way to win."
Given the way the game began, it seemed unlikely that anything in the fourth quarter would even matter.
Texas State (3-6, 1-4 Sun Belt) struggled offensively coming into the game. In their two games before Saturday's showdown, Texas State scored a combined 28 points.
In the first quarter alone, the Bobcats put 21 points on the scoreboard, and the Warhawks found themselves down early.
On the sidelines, ULM strategized how to escape this triple-touchdown deficit.
ULM broke out a trick play on the Texas 3-yard line to help create a spark.
In an apparent homage to ULM alumnus and Super Bowl-winning coach Doug Pederson, running back Andrew Henry took the snap and handed the ball off to wide receiver Will Derrick on an end-around. Meanwhile, Rogers took off on a route into the end zone. Derrick and Rogers flipped places on the usual connection as Rogers hauled in the pass for six points.
It was an unusual trick that got ULM moving in a positive direction.
Tyrone Howell had another standout performance, which included an explosive 46-yard score off of a pass from Rogers. He finished his night with 12 catches and 176 yards receiving.
ULM found the lead following a 3-yard Malik Jackson rushing touchdown. Calum Sutherland drilled the extra point to give ULM its only lead of the contest, but it proved to be enough to secure a win and snap the Warhawks' four-game losing streak.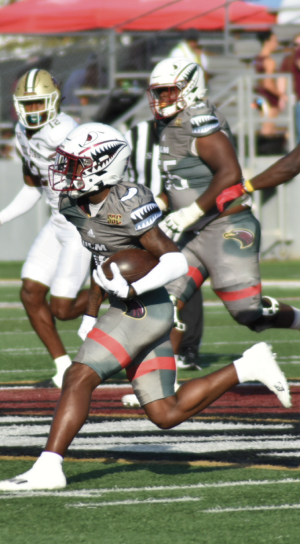 With six losses and three games remaining, Howell says his team still has hopes for one extra game at the end of the season despite the slim odds.
"I really believe we can go on a winning streak right now," Howell said. "The team believes it […]We're ready to play and ready to go ahead and get bowl eligible."