Freestylin': NAACP connects students at Wild'N Out
Students brought their best rap
game to the NAACP's Wild'N Out,
ready to participate in a variety of
freestyle competitions.
The NAACP used the TV show
"Wild'N Out" as inspiration for the
event because they felt it was an area
of common ground.
Many students have watched and
enjoyed the show.
NAACP Political Action Committee
member KeyAria Lewis said, "We
knew it would bring students together
to laugh and have fun, which
is what we all need after a long day
of school."
Lewis acted as the host of Wild'N
Out. She taught the students participating
how to play the games and
led the crowd in making beats to go
behind the freestyles.
Even though Lewis had never
hosted an event before, the crowd
interacted with her well.
Students gathered into teams to
play games from "Wild'N Out." They
played Pick Up & Kill It, Family Reunion,
Wild Sauce and Kick 'Em Out
the Classroom. Each game required
participants to think of freestyle raps
quickly.
Lewis' favorite game to watch students
participate in was Pick Up &
Kill It.
In this game, a person from each
team came up with a rap about a
specific topic that was placed on the
board.
"Seeing them come up with rhyming
words off the top of their heads
shocks me because I cannot do that
quickly," Lewis said.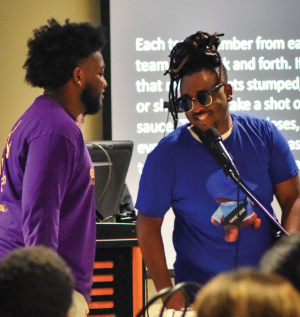 In Wild Sauce, two students stood
at the mic rap battling. The loser of
the battle took a shot of hot sauce.
The crowd erupted in laughter every
time someone's face turned into
a blush color after drinking the hot
sauce.
Another crowd favorite was Kick
'Em Out the Classroom. Lewis led
the students not participating in creating
a beat for those freestyling to
rap over.
The students rapping sat at one side
of the room and acted as if they were
rapping in class.
Their raps mainly revolved around
school and things that they usually
do in class.
NAACP President La'Chele Green
said she wasn't sure what to expect,
but she had seen many students
sharing the event on social media.
"We were happy with the event
turnout and can't wait to host it
again," Green said.
Green said that events like this give
students the opportunity to "connect
with one another to make ULM
feel like a family away from home."