ULM wins home opener in dominant fashion
Jalen Bolden's fast-break dunk with
3:48 remaining in the second half broke
the century mark for ULM in the 2022-
23 home opener. He was one of seven
Warhawks to score double-digit points
on Thursday in ULM's 111-59 victory
over Dallas Christian.
While Bolden's unassisted basket
bumped the scoreboard to triple digits,
the massive lead was built by generous
passing by him and his teammates.
ULM's 32 assists were the most dished
out by the Warhawks this century. ULM
lacked just two more assists from tying
the school record set in 1996.
The win evened out the Warhawks'
record at 1-1 after they lost in their
season opener to Texas A&M earlier last
week. ULM has a game against NAIA
school Central Baptist at home before
facing off with No. 14 TCU on Thursday.
Head coach Keith Richard said after
the game that he wanted his team to
"gain a little confidence" at a point
in the schedule where the Warhawks
are sandwiched between two Power 5
opponents
"We needed a feel-good game," Richard
said.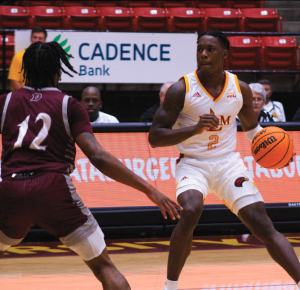 Anyone would be hard-pressed to find
something the Warhawks couldn't feel
good about in the 52-point win over the
Crusaders. Tyreke Locure's 3-pointer
just 65 seconds into the game gave ULM
the lead that lasted for the remainder of
the game. Locure's 19 points cemented
himself as the team's leading scorer. He
shot an efficient 8-of-13 on the night.
Richard said the team's 54% shooting
from the field impressed him and
showed improvement from their
shooting slump against Texas A&M. His
team also connected on 14 of their 33
3-point attempts, firing off from beyond
the arc at 42% shooting.
Crusader mistakes turned into
Warhawk opportunities time after time.
But out of ULM's 36 points scored off
of turnovers, none were more jawdropping
than the basket scored in the
final seconds of the first half.
Jamari Blackmon dove onto a loose
ball near midcourt and threw it past
a Crusader defender to find Nika
Metskhvarishvili. The towering forward
lobbed it up to fellow forward Thomas
Howell who took the alley-oop slam
in for two points as time expired in
the half. Howell's dunk let him and his
teammates walk into the locker room
with a comfortable 35-point lead.
After some Crusader resistance to start
the second half trimmed ULM's lead to
29 points, the Warhawks locked up on
defense and built up to a 49-point lead
with a 20-point run that spanned nearly
six minutes.