Unique Nepalese culture displayed by arts, cuisine
Monroe and Nepal have almost nothing in common,
but hundreds of Nepalese students know ULM as their
home halfway across the globe. To keep their lively
culture intact and create a reminder of home thousands
of miles away, the Nepalese Student Association hosted
the Dashain and Tihar Banquet Saturday evening in the
Hangar.
The banquet served as a celebration for Nepalese students
as well as a learning experience for local students.
Thee Dashain and Tihar celebration usually lasts a month
in Nepal. But in the U.S., the celebration takes on a different
setting.
"It means a little bit more over here," sophomorePrazwol Pachhai said. "In Nepal, you're having more fun,
but over here it's more emotional."
Dashain and Tihar are two of the biggest celebrations
in Nepal. Dashain references the conquest of gods over
demons. Tihar—also known as Deepawali—is a festival of
light celebrating light over darkness.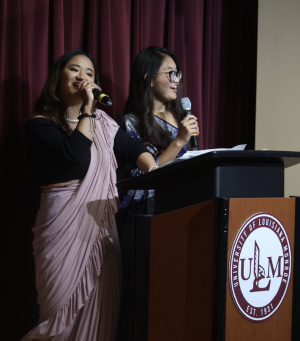 As soon as the banquet began, there were multiple
musical and dance performances set on display. Students
like Sushant Kairala, Gaurav Rijal and Hemanta Pathak
shook o" their stage fright and delivered a memorable
show for the crowd through song. Leading o" the show
with traditional Nepalese dances which were students
like Nishu Shrestha, Biraj Sharma and Sapana Chaudhary.
!e music of Nepal is quite different from the music
many are accustomed to in the western world. It features
more acoustic instruments including the madal, the
bansuri and the sarangi—unfamiliar instruments to many
Americans, but they are responsible for unforgettable
sounds that are cornerstones in Nepalese music.
!e banquet featured a variety of different foods including
Pulao, which is steamed basmati rice and chicken
curry, which features regular chicken with a Nepalese
twist.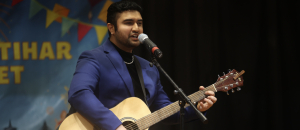 "All of the food at the banquet is authentic Nepalese
food," sophomore Manish Katuwal, the vice president of
the Nepalese Student Association, said. "We're trying to
bring our food over here and let people know about it."
!e Dashain and Tihar banquet is one of the many ways
the NSA connects with ULM students. While the RSO is
for Nepalese students to connect, it also seeks to reach
out to American students and enable them to learn about
the culture.
"We want people here on campus to know what Nepal
has as far as the traditions that we celebrate," Katuwal
said. "This way it will be easier for them to understand us
and where, with the NSA growing in numbers, the Nepalese
presence on camps will only continue to grow."