New grant brings millions to ULM programs
In early January, ULM received over $2.5 million in grant funding for various projects on campus. The grant is funded by the Fiscal Year Omnibus Appropriations Bill, which was passed in the U.S. House and Senate. $2 million of the grant was sponsored by Julia Letlow, a U.S. Representative and ULM alumna. The other $500,000 was sponsored by U.S. Sen. Dr. Bill
The $2 million project will begoing toward the ULM atmospheric science program to install Network Project. Mesonets are interconnected networks of instrumented monitoring stations across an entire state or region that pressure, solar radiation, wind speed and direction, precipitation and soil conditions.
The new technology and its data will be used for weather and climate monitoring that will affect many aspects of the community. Letlow shared her excitement and passion for the program.
"Our universities are the economic engines of our region, and I was proud to help secure this substantial federal investment for the Letlow said. "This project at ULM will provide critical information to our farmers, small business owners and community leaders so they can better plan and respond to weather events."
ULM's atmospheric science program will heavily benefit from this grant, opening up new opportunities to track and understand weather on a more thorough level. Isaiah Montgomery, a junior atmospheric science major, was eager to Network Project.
"We would have the densest observation network of any Gulf Coast state, which is very exciting as far as data is concerned," Montgomery said. "Everyone is for students in the atmospheric science department, both current and future, there are a lot of possibilities."
The other $500,000 will be going toward a program called Mobilized or MADRE. The project will support evacuation shelters in northeast Louisiana during natural disasters, such as tornadoes and hurricanes.
MADRE got its start from an interprofessional group of students and faculty from the ULM College of Health Sciences and the ULM College of Pharmacy. Cassidy shared the importance of programs like this for northeast Louisiana.
"The MADRE project will help northeast Louisiana build healthier and safer communities," Cassidy said. "It serves Louisiana families with a double purpose, both of which are focused on saving lives."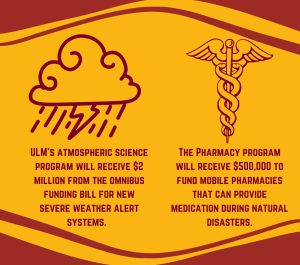 The MADRE project will have a mobile pharmacy unit that will be used when people are displaced from their homes due to natural disasters.
Both of these projects will heavily benefit atmospheric and health science students. They will not only have a hands-on opportunity to learn about different aspects
of their desired fields of study but also gain a better connection with northeast Louisiana's community.
This grant will allow ULM students to flourish and will greatly help communities in our region and beyond.