ULM's Got Talent showcases student abilities to campus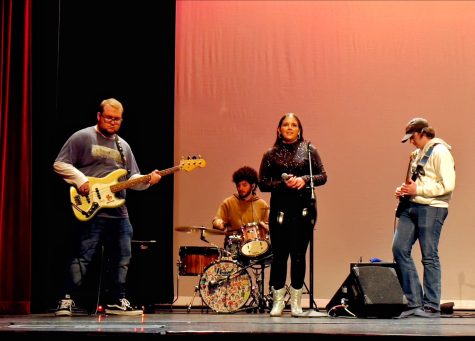 The stage is set. The audience awaits the next performance. It's go time.
ULM's Campus Activities Board hosted a talent show at 7 p.m. on Thursday in Brown Auditorium. The show consisted of 10 contestants who were eager to show their talent to the campus.
Freshman computer science major Ram Kumar Kapri said that the show was a great way to express the talents of the local community.
"We don't know the hidden talents among us, so it's a great way to give them the respect they deserve," Kapri said.
The performances included a variety of musical acts that ranged from playing original piano compositions to singing past hits.
Kelly Slanhean, a junior nursing student at ULM, said that she most enjoyed listening to the piano performances.
"It's awesome that students get to come together and just relax and get to see something fun in the midst of being stressed," Slanhean said.
Audience members received a ticket on admission to the show that would allow them to vote for a contestant. The contestant who received the most votes won the People's Choice Award.
The winners of the award were a group of four: Clayton Moses, Nolan Lenard, Averyal Goyne and Nicolas Irby. Together they played "Separate Ways" by Journey after only having three practice sessions prior to their performance.
The third, second and first-place winners received $100, $200 and $300 in prize money, respectively. The first-place winner of the competition, junior communications major Brendan McClain, sang "Should've Been a Cowboy" by Toby Keith.
Halfway through the song, McClain pulled a green rubber chicken with a white hat that he dubbed "Toby Keith" and had it "sing" throughout the rest of the performance.
"It's very odd because they all had talent, and I had a rubber chicken," McClain said. "So, I feel a little undeserving, but I'm very, very grateful."
McClain's bright attitude and comedic timing won the judges over, along with many of the audience members.
McClain came to the show wanting to have a good time on stage and found himself winning the whole competition, showing that all it takes is a little confidence to succeed. "If you are confident in yourself, you can literally do anything," McClain said.