Students dance, celebrate at Mardi Gras Ball
Beau Benoit, Circulation & Marketing Director
February 23, 2023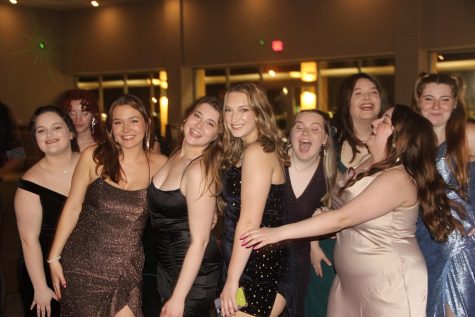 ULM students let the good times roll as the Student Government Association hosted its 22nd annual Mardi Gras Ball on Wednesday. Zydeco music and shades of purple, green and gold welcomed students to a night of food, fun and friends.
To kick off the evening, SGA President Ethan Estis and Vice President David Hernandez introduced the 2023 Mardi Gras Court. Each of ULM's four colleges, along with the graduate school, was represented by a beau and a maid.
SGA crowned Kaleb Underwood as king and Charley Cuti as queen. Cuti delighted in the opportunity to spend her last year at ULM being one of the stars of the evening.
"I am honored to represent this amazing university, especially during my favorite holiday," Cuti said. "I couldn't have asked for a better memory to have my senior year."
Adding to the royal recognition was the Krewe of Janus, based out of the Twin Cities. Mardi Gras Court members joined the Krewe of Janus as they paraded through the room, tossing beads into the crowd.
After the mini parade, the DJ bumped up the energy by playing line dancing songs like "Bunny Hop" and "I'm Lit" between zydeco songs. Strangers and friends alike organized themselves in rows and danced the night away.
A big fan of the music was freshman pre-pharmacy major Sam Blue, who took advantage of the social aspect of the ball. She used it as an opportunity to have fun and interact with her Kappa Beta Gamma sorority sisters.
"Since I'm new to KBG, I thought it'd be a great way to connect with them and get to know them better," Blue said. "I loved seeing everyone all dressed up." Blue and her sorority sisters spent much time taking plenty of photos and having fun on the dance floor.
A night of letting loose stirred up everyone's appetite. Aramark provided attendees with traditional Mardi Gras cuisine, such as chicken and sausage gumbo, bread pudding and even king cake.
Cuti particularly enjoyed the meat pies, as they are one of her favorite foods to eat during Mardi Gras season.
The coordinator of the ball, Student Life and Welfare Department Head Jaci Ervin, enjoyed seeing her planning come to fruition. To her, seeing the students enjoy themselves and continuing a long-standing event felt the most rewarding.
"No matter who plans the ball, there is a certain level of tradition that remained within each ball I have attended, and that is what I looked forward to the most," Ervin said. "Seeing the joy and smiles on the attendees and court members simply made my heart happy."