Enrollment set to increase for fall semester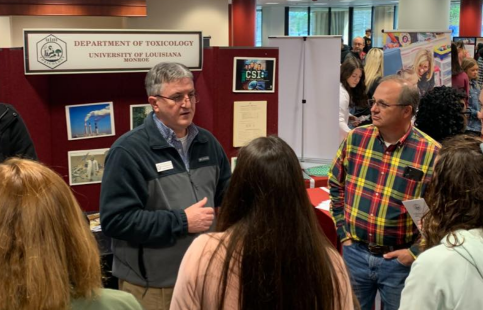 Beau Benoit, Circulation & Marketing Director
March 27, 2023
After a down year in enrollment, next semester's fall recruitment is looking up.
Last Saturday's Browse on the Bayou exceeded recruiting goals and set the record for the largest attendance in school history.
Thanks to events like this, ULM expects a large increase in enrollment. This projected boost in students comes after a noticeable decline associated with the pandemic.
Vice President of Enrollment & University Relations Lisa Miller said she feels it's important that recruitment returns to normal. She also shed light on the result recruitment efforts have on the university.
"This year was the first year that we've really been able to go back to a model of I would say is true recruitment," Miller said.
Recruiters returning to high schools and students feeling more comfortable attending campus events have resulted in an increase of 750 admitted students, according to Miller.
"We're a little bit scared to brag too much because anything can happen between now and then," Miller said. "I don't think we're gonna throw a party until the 14th class day. If we're up then, we will really be celebrating."
Ahmaad Solmone, director of orientation programs and special events, also said he noticed an increase with orientation. According to Solmone, "We just opened our PREP registration, and the numbers are higher than they typically are at this spot."
Director of Undergraduate Recruitment Kaitlin Arnett explained that generally, the larger fall Browse contains roughly 400 registered students, and the spring typically brings 300. This spring alone brought in 686 potential students.
"We had 56.6% attend, which is actually our highest attendance rate," Arnett said. "We had right around 1,200 people on campus on Saturday."
Aside from adding an additional Browse each semester, Arnett plans to introduce new recruitment events. In collaboration with Northeast Louisiana & Arkansas Recruiter Maddie Morris, Arnett wants to create a scavenger hunt for high school students called "Ace's Amazing Race," based on the show "The Amazing Race."
Arnett said she feels like there's a "buzz" going around, and it's helping to boost recruitment efforts.
"[Recruiters] are getting into the schools; they're building relationships. Students are coming for an event or a campus tour and having a good time," Arnett said. "I think things like [Browse] happening are not just making us excited, but it's also making prospective students excited."