Ünlü reflects on legendary indoor season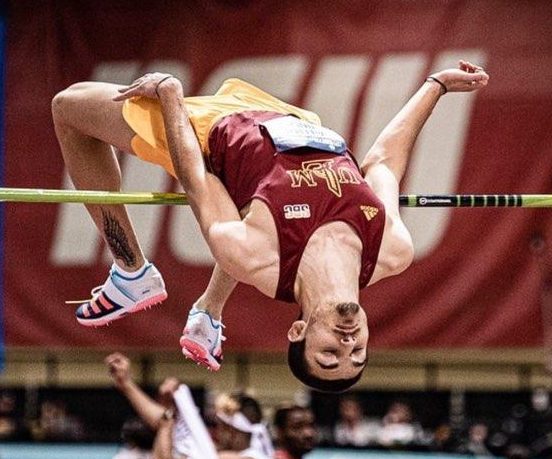 Early mornings, hours of practice each day and few trips home are the rough realities of athletes with high expectations. People like Ali Eren Ünlü show that these sacrifices can pay off.
Ünlü finished a decorated indoor track and field campaign this month to conclude his sophomore year. He won first place in the high jump in the Sun Belt Conference Championship and was named Track and Field Athlete of the Year in the conference.
These accolades landed him a trip to the NCAA Championship, where he finished seventh and became a First-Team All-American. They also come after a freshman season that he said was not up to his standards because he was plagued with injuries. As a freshman, Ünlü failed to clear 7 feet in any of his jumps and finished last at regionals in 2022.
He spent his summer in Monroe, away from his home in Turkey, to recuperate and spend hours each day in the Louisiana heat to be ready for the season.
"I just practiced for like four or five hours. I just do double practices sometimes, and I just recovered my knee and started jumping well again," Ünlü said.
A year later, he cleared 7 feet in all five of his events this year and broke the school record with a 7-3 jump to win the Sun Belt Championship.
Each week he searched for new motivation to be better. Despite taking first place in four of the five meets he competed in and placing second in the other meet, he never took home SBC Player of the Week. He said he felt disrespected by not getting an award for his performance.
But as he was preparing for nationals in New Mexico, his coach got the call saying he was the SBC's Athlete of the Year.
Now that he is over his injuries and has shown his potential in the indoor season, he said accolades like these are what he expects for the rest of his college career.
Most track and field athletes set their career goals at the conference championship or a trip to the National Championship, but Ünlü sees that as his new normal. He said he's happy to have earned this accomplishment, but that he believes there is more he can do on the grand stage.
"Seventh is definitely not enough," he said. "I have two indoor and three outdoor seasons. I will go to nationals in every single one of them. I will break the conference record. I will break the school record again. I won't stop."