The Hawkeye presents: 1st annual Talon Toast Awards
As President Ron Berry said way more than once, the best is on the Bayou. Although we may disagree on the best assets of ULM, at the Hawkeye, we agree that there's plenty to talk about on this campus.
So to end the school year, we're giving out our first-ever Talon Toast Awards. These awards spotlight the best of the best (and the best at being the worst) that ULM has to offer.
We strived for a balance between the most-deserving award winners and the most noteworthy topics that we could find. If you're looking for some household names to receive our top honors or for us to diss some misery-ridden program on the flip side of Bayou DeSiard, those dead horses have been beaten enough.
All of these awards were selected by a majority vote among the Hawkeye editorial staff.
Please join us for some congratulatory remarks and a few laughs along the way as we bring you this first-of-its-kind Hawkeye special.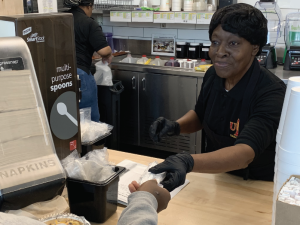 ULM Employee of the Year: Thelma Lewis
If you've never made a stop at the HUB, then you've likely never seen one of the nicest people on campus.
Naming Thelma Lewis our Employee of the Year is a simple choice. Many ULM students will gladly tell you how kind-spirited she is. If you had a stressful start to your day, her positive attitude can change that.
Whether you're in a rush and just need to grab food and go to class, or if you have time to stop and chat with her for a minute, you'll leave feeling a little better than you did before you placed your order.
And she won't keep you waiting long either. She works hard and lets you get back to your day as fast as she can.
If you think customer service is a thing of the past, take a trip to Flip Kitchen sometime and maybe you'll have a change of heart. You'll wish the world had more people like her, but you'll also be thankful that ULM has the one and only Thelma Lewis.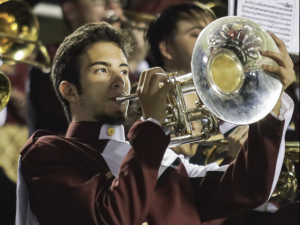 Campus Spirit Award: Visual and Performing Arts
The School of Visual and Performing Arts has been through so much this academic year. On top of their expected workload that might include concerts, plays, late nights at football games or long practice sessions, everyone in the program had to deal with the passing of longtime director Derle Long. Losing someone as influential as him left a shadow lingering over the program, but you wouldn't know it based on everything they've done since then.
Interim director James Boldin had an excellent run at keeping the standards high over the past few months, and ULM saw others in the program step up to preserve the quality of their craft. VAPA graced the campus with high-level works and performances throughout the year, and because of this, we feel they deserve our nod for the Campus Spirit Award.
If your experience with VAPA is limited to parades and a football game, we encourage you to check out all the things they do. Some might think musicals and concerts aren't for them, but don't knock what they do till you've seen it.
ULM recently announced Nicholas Bratcher will be the next director of VAPA. He'll have some large shoes to fill, but we wish him the best of luck and hope he feels at home in Monroe.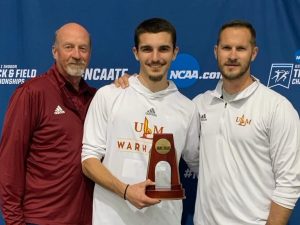 Athlete of the Year: Ali Eren Ünlü (Track and Field)
There were a lot of contenders for this spot, but when you advance to a national meet and finish as an All-American, there's no denying who grabbed the title.
Ali Eren Ünlü compiled a historic 2023 indoor track and field season. He earned Sun Belt Conference Men's Indoor Field Athlete of the Year and was named a First-Team All-American.
He was also the first ULM athlete to compete in the NCAA Indoor National Championships since 2018 when Alton Clay finished as national runner-up. Ünlü finished tied for seventh place at the meet.
Out of the six indoor meets he competed in, Ünlü finished in first place at the LSU Purple Tiger, Houston Invitational and the Samford Bulldog Open. He also finished first in the Sun Belt Championships. The only regular season meet he didn't win was the Vanderbilt Invitational.
Ünlü broke the ULM school record by posting a 7-3 (2.21 meters), which was also his personal best. He also recently broke the outdoor school record clearing 7-2 (2.20 meters).
Ünlü competes in outdoor track and field, where he just recently received Sun Belt Athlete of the Week. He placed third at the Texas Relays and the Bobcat Invitational and placed first at the Pacific Coast Intercollegiate.
Most athletes have their breakout season in their junior and senior years. Ünlü is a sophomore, and will only get better as his career progresses.
He's taking home our first-ever athlete of the year award, but he could be in the running for the rest of his career.
Honorable mentions: Chantal Dueringer (Women's Golf), Emma Merriweather (Women's Basketball).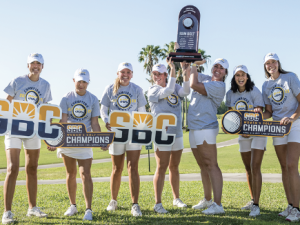 Athletic Program of the Year: Women's golf
The ULM women's golf team did something that no ULM program had accomplished since 2017—win a Sun Belt Conference Championship.
The championship was won in thrilling fashion, as ULM beat out Texas State with a tiebreaker to win first place.
The program quietly became the most successful team for the 2022-2023 season. While all the big sports like football and basketball were going on, the golf team consistently placed in the top three at invitationals.
The team is headlined by their Sun Belt Championship, but they performed well throughout the entire season. In 11 meets, the Warhawks placed in the top half of the pool in every one of them.
ULM finished in first place in four meets, which included the only home meet with the ULM Invitational in April. The team placed in the top three in all but two meets.
It was at the Judson meet that the team started to establish themselves as they won their first tournament in two years. At the Grand Canyon University Invitational, the team put up a record-setting score of 845.
The catalyst for the team was Chantal Dueringer. She finished in the top four seven times and the top 10 eight times. Her second-place performance in the conference championship helped the team secure the title. Alessia Mengoni also played a big role in the championship as she placed in the top ten.
Her departure from the program will hurt, but the team is still well-rounded. Six of the seven players on the roster will remain in Monroe for next season.
Honorable mention: Beach volleyball.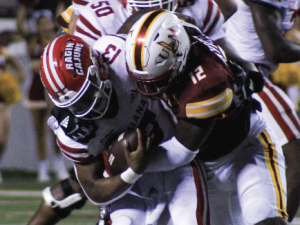 Game of the Year: Warhawks down the Cajuns 21-17
Beating a hated rival in UL-Lafayette for the first time in five years is something Warhawk fans won't forget anytime soon.
When the Ragin' Cajuns came into Malone Stadium, ULM had just finished its gauntlet of a schedule with Texas and Alabama and was off to a 1-2 start. Warhawk players had a chip on their shoulders after the past five years of heartbreak and humiliation and were ready to break the streak.
The Cajuns went up 7-0 in the first quarter, but running back Andrew Henry took it 75 yards to the house to even the score. ULL scored on the next drive to retake the lead. Aided by a field goal in the second quarter, the Cajuns held a 10-point lead at the half.
The defense for ULM settled down in the second half and pitched a shutout. It wasn't until the fourth quarter that the offense decided to rejoin the party. The Warhawks used a turnover to set themselves up inside the 10-yard line. Two plays later, and they narrowed the lead down to three. The play of the game occurred when wide receiver Tyrone Howell caught a short slant route and turned it into an 89-yard gain to set up the Warhawks at first-and-goal. ULM scored three plays later to go up 21-17.
The defense continued to do its job on the ULL's final drive, and a sack with eight seconds left sealed the win for the Warhawks and gave Lafayette their second L, both in the loss column and in their name.
Honorable mentions: ULM 31-28 over Georgia State (Football), ULM 86-82 (2OT) over Marshall (Men's Basketball).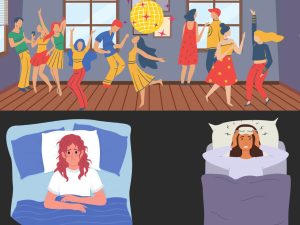 Most inconsiderate people: Upstairs neighbors
Do you need proof that telepathy is real? Set aside some time to get in the grind and knock out some homework or to get some studying done in your dorm. As if by magic, your upstairs neighbors will decide that now is the perfect time to host that dance-off that they've been waiting for all semester.
Similarly, the one night you're trying to catch up on sleep also happens to be the night that someone on the floor above you will host the largest dorm party that ULM has seen in decades. In your mind, you'll wonder how it's possible to know that many people, get all of them to show up and then fit them all into one compact dorm room.
Moments like these may warrant a quick angry jab at the ceiling with a broom or a trip upstairs if you're feeling more confrontational. Try as you wish, but it's a very brief solution. If you're desperate, you can phone your hall director, but next week they're back in the same place at the same time.
It's not dorm specific. No matter where you lay your head on campus, there's almost always someone above you ready to spice up your migraine.
And if you haven't gotten a headache or had your campaign to save your grades ruined, you're reminded that someone has a hotter social life than you.
These are the struggles of many of us on campus—except for those of you on the top floors. Take the time to thank the man upstairs that you are the one upstairs and that you have the high ground here.
But hey, here's your tongue-in-cheek award, as if you needed another reason to celebrate. We'd raise a toast to you, but odds are your raging party already has that covered.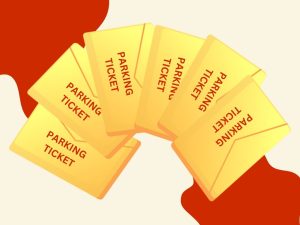 Most-hated job on campus: Parking ticket writers
College students are notoriously broke, and adding on $50 to their owed fees every time they park in the wrong area is sure to make their blood boil.
The dreaded yellow envelope might as well be the mark of the beast for anyone at ULM with a vehicle, especially residential students who are only zoned a select few lots on campus. Many students have strong emotions toward the student workers tasked with writing these parking tickets.
Very few know what students carry the power to financially derail another's day at any given time.
And these people probably wish to keep it that way. Go to any social media group related to ULM and try to find one nice comment about these student workers.
We'll wait on you.
If any of us had that job, we'd want to keep those types of reactions out of our day-to-day lives.
But that being said, these workers are some of the most diligent on campus.
Your odds of sitting in the wrong lot for a class and not receiving a $50 donation request to the school is basically a coin toss.
Now if you overslept and are about to miss a make-or-break exam or presentation, maybe that's a risk you're willing to take, but for a lot of us, we'll continue busting that walk across campus instead of testing our fate with the parking lot patrol.
The university wants someone to do that job, and these select few have decided that this is their calling in college. Even as disliked as they might be, we'll give a toast to them for taking on one of the most despised roles on campus.
Honorable Mention: Residential assistants/hall directors.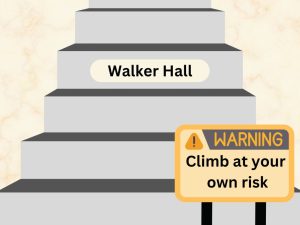 Best fitness coach at ULM: Walker Hall stairs
Mount Driskill may be the highest point in Louisiana, but the staircases of Walker Hall are reserved for only the most serious climbers. Even the few who have reached the summit of Mount Everest would be wheezing by the time they reached the third floor.
Every student has encountered the laborious staircases of Walker Hall. Daily, students can be seen dramatically sighing before beginning the treacherous trek.
By climbing Walker's stairs, you are practically guaranteed not to gain the freshman 15. Instead, you are probably losing weight. Who needs to go to the Activity Center when you lose about 500 calories just trying to get to class? A few trips up and down the building will do you just as good for your fitness goals as any StepMaster could.
Walker Hall was obviously a shoo-in for Fitness Coach of the Year. Walker Hall's stairs push students to their breaking point. You need to build endurance, speed and athleticism if you want to make it to class on time. Otherwise, you will end up getting an F in attendance.
At the end of the day, Walker Hall forces students to work out even when they would rather be anywhere else. You really feel the burn. And there aren't many students who luck out and avoid a second or third-story class in Walker. That is why it's receiving our Talon's Toast.
Honorable Mentions: Chemistry and Natural Science Building staircase, Wesley kayaks.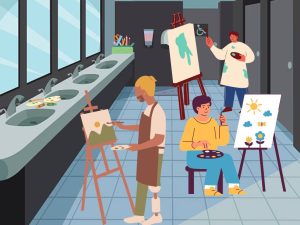 Lavish Lavatory Award: Stubbs Hall's bathrooms
We all find ourselves fighting demons because of a spicy chicken sandwich from Chick-fil-A or an extreme amount of fire sauce from Taco Bell.
But if you take some time and examine the stalls of Stubbs Hall's bathrooms, it'll feel more like stepping into the Louvre than the loo.
One such stall contains a drawing of a man's face, commonly believed to be Sylvester Stallone, turned slightly to the right. The artist's identity and the age of the piece have been lost to time, but the immaculate detail in the depiction still remains.
A keen eye will also catch subtler scribbles of art and poetry, such as a delicately written ode to the 2016 winners of the MLB World Series, the Chicago Cubs. Whether written in celebration or homage to the event, the Cubs' win rests immortalized in a stall of Strauss Hall.
The lavatory in the Business Incubator section of Strauss houses additional works of art.
Such masterpieces include a small creature with three appendages and one large eye on a stalk as well as a Herculean man sitting on a latrine gazing at his phone with a slight grin on his face.
The door of the stall hosts a poem by an anonymous author detailing the turmoil felt by an individual in their efforts to relieve himself.
You wouldn't normally find works of art worth analyzing in a university bathroom, but like all art, it's out there. You just need to find it.
Honorable Mention: Strauss restrooms.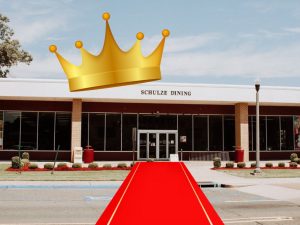 Most-Improved Facility Award: Schulze Dining Hall
If there's one stereotype we in the South have no shame claiming, it's that we love good food. Take a trip to nearly any university, and the people there will tell you that "good food" and "cafeteria food" are antonyms of each other.
Schulze has always been decent, but as of late, the people there have really stepped things up.
They've broken out several special meals over the month of April, and it's had some of us dropping in much more frequently than we normally have.
Let's travel back in time a couple of weeks to when Schulze was handing out food from Kravins. You would have thought there was a parade inside this city by the way that everyone found their way into the building.
And the other specials they've been bringing have been things we didn't even know we wanted. A giant pretzel and some chicken and waffles are things a lot of people never make or go out and order, but they are elite when they're right in front of you.
But Schulze serves up solid food more often than they don't. We all know the magic that finds its way on our plates every Fried Chicken Wednesday, but you need to give the new stuff a try too.
If you're in the camp that thinks caf food still isn't worth your time, at least you now have the option to spice your day up with the spices they recently started putting out around the place. Chicken drowned in hot sauce and fries dusted in Tony's is really all some of us need in these trying times around final exams. Next time you get some pasta, pour some curry powder in your Alfredo. You can thank us some other time.
Here's to Schulze: our only choice for a dining hall, but thankfully not a bad one.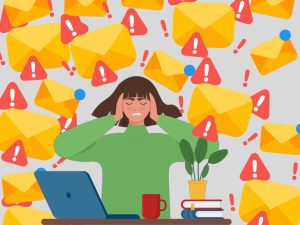 Most likely to be muted: Mass school emails
We wait by our phones at all hours of the day, hoping to hear from the important people in our lives. Then when we hear that long-awaited "ding," it's our ninth false alarm of the afternoon.
It's another mass email that will go unread like a message from an ex that we want to forget.
But thank goodness we know now that Moodle will have a technology outage for three minutes sometime next month.
If our phones go off in a dead-silent classroom it better be important, but it rarely is ever worth our time.
No need to wake up to "good morning" texts when waking up to 10 or so campus-wide emails will suffice. ULM has every student feeling like a superstar with constant Outlook notification dings.
Outlook makes sure students get their bi-weekly time sheet emails even if they are not—and have never been—employed by the school. Knowing deadlines for clubs you aren't in is much more important than seeing deadlines sent by Moodle.
Losing an email from professors is a small price to pay for the true two-phone Paris Hilton experience—one for school emails and the other for everything else.
The deep comradery felt between each student and the repetitive "archive" swipe is something so special that it could not be duplicated by anything else.