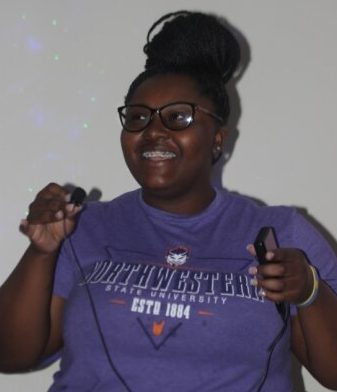 Last Wednesday, Zeta Phi Beta sorority sisters transformed the empty classrooms of Walker into its own personal disco, complete with LED lights and a spinning disco ball.
The sorority hosted an open mic night, where tone-deaf students competed over who could sing Beyoncé's part in "Drunk in Love." No one can replace the Queen Bee herself, but the girls in Zeta Phi Beta did give her a run for her money.
The night consisted of students gathering the courage to sing karaoke in front of the classroom.
If you have never performed karaoke, students sing with no backing vocals or lyrics. Of course, many of the students did not remember the songs as well as they thought they did.
While many students find performing for a crowd of strangers frightening, the girls at Zeta Phi Beta made sure every student felt comfortable and confident.
"I am not much of a singer, and I can hardly carry a tune, but the people are really nice, and it sounded fun," Gracie Watts, a senior social work major, said. Watts then expressed that it is always good to go to events in college and be more involved.
The most memorable moment of the night was a high-intensity rap battle set to "Whenever Int'l Players Anthem" by UGK.
Once the song came on, everyone immediately started shouting the lyrics. Two girls in the crowd obviously adored UGK, mimicking the rappers' voices and dance moves. Sometimes, laughter drowned out UGK's vocals.
The diverse catalog spanned from Mack Morrison's "Return of the Mack" to Ginuwine's "Pony." The R&B playlist fostered relationships among all attending students, whether they were a member of Zeta Phi Beta or someone who saw the flyer when walking to class.
"We wanted an opportunity for people to get to know us to know Zeta as an organization," senior political science major John'Nise Peoples said. Peoples recently served as the sorority's treasurer, playing a key role in planning events for Zeta Week.
Each year, the Panhellenic Council assigns sororities and fraternities weeks where they are free to fundraise all over campus. The sorority sponsored several events on campus, including a bake sale and a free picnic.