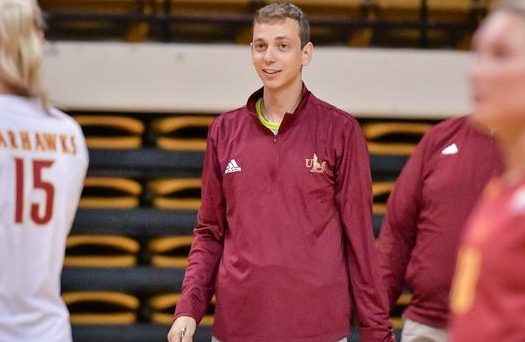 It's no easy feat taking over a program with only one conference win in the last three years. Coupled with being at a school with sub-par morale and pessimistic expectations, it can be downright intimidating to take charge as the head of an athletic program at ULM. But head volleyball coach Matt Kearns knows the direction he wants to take the program, and he's more than willing to put in his fair share of work to get volleyball back on track.
Kearns comes from Northern Kentucky University and has helped the program reach a combined record of 108-69 over six seasons, with the last five producing a winning record. Kearns mentioned his tenure at NKU helped ready him for the position at ULM, but even making it to the NCAA tournament didn't provide 100% of the preparation.
"I'm sure there were a few moments in there that helped me learn how to deal with stressful situations," Kearns said. "But those moments alone are not enough to prepare you. You can't make a last-second 3 in game seven of the NBA finals and magically become an incredible 3-point shooter."
With four career wins already under his belt and conference play still to go, Kearns touched on both where the team stands and how far he plans the team to go. He stated that judging based on performance versus potential, he'd give the team an A.
"You can't look at a team's record to determine this," Kearns said. "I am at every practice and can tell you that in a two-hour practice, we are giving everything we got for an hour and 55 minutes. So it's not an A+ because we can always give a little bit more, but man, I'll tell you, these kids work hard."
A phrase Kearns uses a lot in practice is "trade expectations for appreciations." He explained that not reaching expectations leads to feeling defeated while reaching them can feel neutral. He went on to say that by expecting nothing and appreciating the game, it breeds a more positive attitude and helps to, "set a foundation for a culture that we can look back on in one, two, five, 10 years and be proud of our impact."
Despite his focus on the present, Kearns still has his eyes set on a fundamental goal: winning.
"That's why we put in so much work, watch so much film and sacrifice so much of our time," Kearns said. "It's to win."
Conference play starts in less than a week, but Kearns already has a cool head about the rest of the schedule. He pointed out that a team can have a perfect season and start the conference tournament with a high seed, but, "on Nov. 15, everyone's record goes to 0-0, and everyone has a chance to go to the NCAA tournament."
Kearns remains positive as the Warhawks struggle to find their footing in tournaments with conference play soon approaching.