Mara Grutkamp, midfielder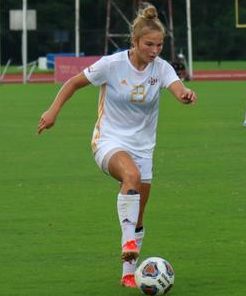 Grutkamp currently sits at a tie for the third-most career assists in ULM history at 13. She holds this position along with Chelsea Shriner, 2000-02 and Theoni Zerva, 2020/21-21.
Grutkamp recorded her first assist of the 2023 season in the opener at Tarleton State. Her free kick during the 88th minute set up senior defender Lucia Lobato to deflect the ball and land it into the net for the equalizer.
She tallied her second assist on the equalizing goal by Janne Van Brummelen in the 35th minute at Marshall on Sept. 17.
Grutkamp's next assist will tie her for second on the career assists list, matching up to Kelley O'Dwyer, 2012-15.
However, Grutkamp sits at just over halfway to tying the ULM career assists record, held by Karlea Fehr (2012-15) with 24.
Grutkamp finished last season tied for second for assists in the Sun Belt Conference (6)
Grutkamp ranks ninth in career shots with 110. Her first goal of the season came on Aug. 31 against Texas A&M-Commerce. It also netted Grutkamp her 11th career goal, putting her two goals away from breaching the career Top-10 list. She also sits just shy of the top 10 in career points (35) and game-winning goals (3).
Grutkamp has started in all 10 matches so far, playing all 90 minutes in four of those matches.
Last season, Grutkamp started in all 18 matches she appeared in, and she played all 90 minutes seven times.
Janet Stopka, forward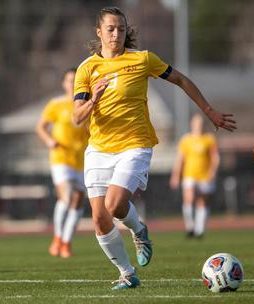 Stopka has netted four goals in eight games in 2023, which places her in second place on ULM's career goals scored list with 20.
She recorded a brace against Marshall on Sept. 17 for her sixth career multi-goal game. She scored her first goal of the 2023 season on Aug. 24 against Louisiana Tech and scored the game-winning goal on Sept. 3 against Jackson State to keep climbing up ULM's career points and goals lists. Stopka passed former teammate Courtney Marten (19, 2020/21-22) for second on the all-time list on Sept. 17 at Marshall.
Only Cindy Barker (22, 2000-03) stands between Stopka and the title for the most goals in program history.
She has two game-winning goals this season, coming against Marshall and Jackson State. Her six career game-winning goals are tied for the most in program history with Marten and Tara Balogh (2001-05).
Stopka landed her first assist of 2023 on Aug. 31 against Texas A&M-Commerce. She has 44 career points (18 goals, four assists), which ranks fourth in program history behind Karlea Fehr (56, 2012-15), Barker (53, 2000-03) and Chelsea Shriner (45, 2000-02).
She has started three of the last four matches as she continues to work her way back from a knee injury.
Stopka set a then school record with 10 goals in the 2020-21 season. She added four goals in 2021 and two goals in 2022 before sustaining season-ending injuries in each season, playing in just 10 total matches between the two seasons.
Inge Konst, defender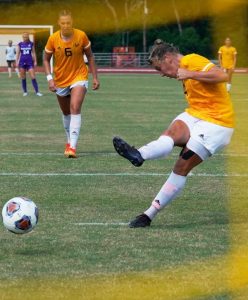 Konst has gathered 13 points over the first nine matches of the 2023 season, elevating her on the career points, career goals, career assists, career penalty kicks made and career shots lists.
Konst extended her lead as ULM's all-time leader in penalty kicks made with a goal in the first minute of the match at Gambling on Sept. 14. It was her fourth converted penalty of the season, setting the program's new single-season record. It was her seventh career converted penalty. In addition, it was her 16th career goal, which moved her into a tie for sixth on ULM's career goals list. After aiding in Janet Stopka's first goal on Sept. 17 at Marshall, Konst moved into fifth on the career points list with 43 points and is tied for seventh on the career assists list with 11.
Konst became ULM's all-time leader in penalty kicks made with her goal in the 14th minute against
Southeastern on Sept. 7. She then added an assist on a goal by Libby Holmes later in the match.
Konst scored in the second minute and added an assist in the second half in the Aug. 24 3-3 tie at Louisiana Tech.
She recorded two penalty kick goals against Sam Houston on Aug. 20, with her second goal in the 76th minute putting ULM ahead for good.
Konst has now moved into 10th on the career shots list with 108 shots, two behind teammate Mara Grutkamp for ninth place and five ahead of Janet Stopka.