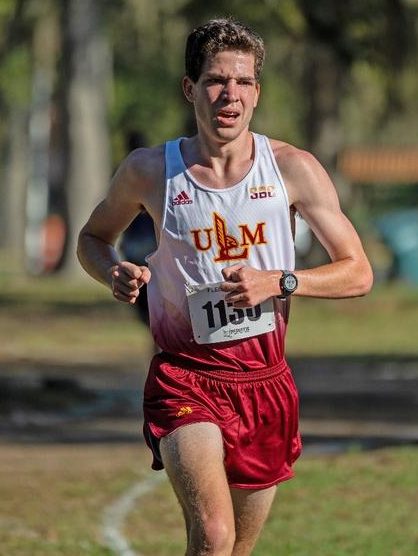 After a rough finish in the Crimson Classic, the men's cross-country team placed third in the Sun Belt Conference tournament, a record best for the program.
"The men had one of those days that you dream about," head cross-country coach Jake Poyner said. "They got out hard, found their spots, didn't look back and battled for every point."
The top runner for ULM, Carlo Martinez-Jaramillo, placed eighth overall and also won the distinction of SBC Freshman of the Year. Martinez's 8K time of 25:15.4 helped his team climb the ranks and land at the No. 3 spot.
Martinez said that after a while, running became more of a mental battle against his opponents rather than a physical one.
"I was in pain, but I remembered everyone else was hurting as much as I was," Martinez said. "In that sense, I could keep going to beat the mental game."
Preseason polls predicted ULM to finish in last place, but the team used the harsh criticism as fuel when it mattered most.
"It means a lot to us because a couple of years ago, we got dead last, and we were projected to finish at the bottom this year too," Teddy Gowen said. "We all had something to prove, and it was time to make a statement."
The team ran as a unit in the tournament, they said. No one raced for himself, and the main goal was to get the team a record-breaking finish.
"I saw Chase [Gunn] dying in the third lap, so I knew I had to step up and try to fill his place," Rojs Puks said. "That's when I made the decision to not give up and keep pushing, catching as many people as possible."
Gowen shared Puks's sentiments and said that his determination in the race came from seeing just how far his teammates were willing to go to place in the tournament.
"I think the most important thing this year is that we all raced for each other," Gowen said.
The team sets its sights on the NCAA South Central Regional tournament in Fayetteville, Arkansas on Friday, Nov. 10.
Members of the team said they felt this victory was not the ceiling for the team, and that they can all go much further than just the conference tournament.
"The team as a whole felt like the first meal was eaten. I think we are capable of much more with the squad we have right now," Martinez said. "This squad is laying a foundation for the next few years. I think at some point in my career, we could be looking at bringing home a championship title.