Is Louisiana on a fault line?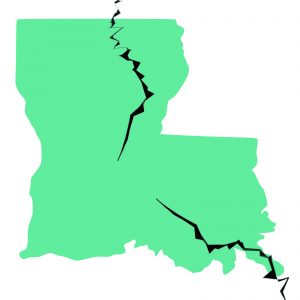 Geologists say Monroe is safe from earthquakes
As deadly disasters strike across the world, such as the one in Ja­pan, questions arise as to whether or not Monroe is prepared for one.
Treasure Player, a freshman pharmacy major from Shreveport, worries about Louisiana's future as she remembers Japan's recent devastating earthquake.
"When you look at what hap­pened in Japan, it makes you ap­preciate life more," Player said.
She continued, "It's also scary because you realize anything can happen. I don't know how I would feel if something like that hap­pened here."
Earthquakes occur in areas of weakness in the Earth's crust, which are revealed by faults.
While Louisiana does in fact lie on fault lines, it is still in an area of low seismic risk. The largest earth­quake in Louisiana took place in 1930 and barely broke the scale at a magnitude of 4.2.
According to geology instructor Lauri Anderson, the chances of a disaster, such as the one in Japan, affect­ing Monroe is zero to none.
"There's no way that's go­ing to happen," said Anderson.
"There's no chance of an earth­quake or tsunami as devastating as the one in Japan hitting Louisi­ana; we're dealing with two drasti­cally different types of faults."
Normal faults, in which the hanging wall drops below the foot­wall, dominate the area of Mon­roe.
Japan's earthquake resulted from thrust faulting near a sub­duction zone, where one plate is being forced beneath another.
"The faults in Louisiana and the faults in Japan are complete op­posites; the closest subduction zone to Louisiana is in the Pacific Ocean," said Anderson.
Plates are being pulled together in the Pacific Ocean while plates are being pulled apart in the At­lantic. Not much of either is hap­pening in the Gulf.
"Although, we have the same type of fault system as Japan off the northwest coast of the US, which could cause a major earth­quake and subsequent tsunami for the western coast, geological­ly speaking, we're pretty safe in Monroe," Anderson said.