Blanco to speak for Women's History Month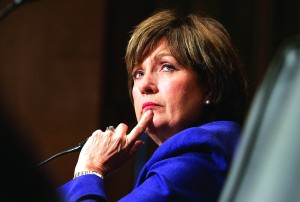 Former Governor of Louisiana to visit ULM March 28
The University of Louisiana at Monroe Diversity Committee will host former Gov. Kathleen Babi­neaux Blanco, Louisiana's first fe­male governor, as the featured speaker for Women's History Month at ULM.
Blanco will give her talk at 7 p.m., Monday, March 28, at the ULM Conference Center, located on the seventh floor of the ULM Library. The talk is free and open to the public.
"Governor Blanco is a perfect choice to help us celebrate Wom­en's History Month at our univer­sity," said Vice President for Stu­dent Affairs, Wayne Brumfield.
"She was elected to four differ­ent offices during her 24 trailblaz­ing years in public service. Her name was on the ballot nine times in tough races and runoffs, and she has never been defeated. We are very pleased to host her this month."
In 2003, Louisianains elect­ed Blanco governor over 19 men, many of them prominent political figures.
Blanco served as governor in the weeks and months following the devastation of Hurricanes Ka­trina and Rita, and she convinced the federal government to secure over $29 billion for the state to make levee improvements, pro­vide housing grants and rebuild public infrastructure.
Blanco's other "firsts" include being the first woman from La­fayette elected to the Louisiana House of Representatives in 1983 and again in 1987.
She was also the first woman in Louisiana elected to the Public Service Commission, where she was named chairman and was re-elected for a second term with no opposition.
Twice elected as lieutenant governor, she built the state's tour­ism business into a $9 billion in­dustry. Through the Main Street Program, she worked to revitalize small towns across the state.
Blanco prioritized education during her tenure as governor, which included funding teacher pay and higher education at the Southern Regional average for the first time in 25 years.
She was nationally recognized for her economic development accomplishments and left a bal­anced budget and a $2 billion sur­plus by the end of her term as gov­ernor.