Benny Blaylock, the new Dean of the College of Pharmacy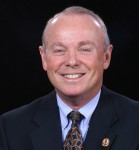 Benny Blaylock has been named the new dean for the College of Pharmacy at the University of Louisiana at Monroe on Friday, April 7. Blaylock has been serving as the pharmacy school's interim dean since the passing of former dean, Greg Leader, last spring.
He was one of the three finalists chosen three weeks ago, and underwent interviews March 24-25. Blaylock has been at ULM for almost 20 years, and has been actively involved in the toxicology and pharmacy departments.
He was selected over Jagdish Singh, a professor and chair of the Department of Pharmaceutical Sciences in the College of Pharmacy at North Dakota State University; and Kathryn Meier, the director/chair of the Program in Nutrition and Exercise Physiology in the College of Pharmacy at Washington State University.
Blaylock was a heavy favorite among College of Pharmacy students, including Clint Bell, a pharmacy P2 from Ruston.
"Dr. Blaylock has been associated with ULM for a while now, and we know he backs our best interests," said Bell, in an interview for the March 21 edition of the Hawkeye.
Further details about when Blaylock will officially start are unknown, stay tuned to the Hawkeye to find out more as information becomes available.