Wacom's 'Inkling' puts pen to computer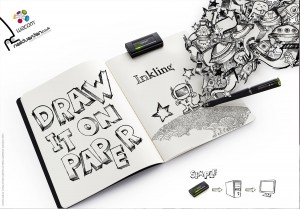 Something new from Wacom is "The Inkling," a digital sketch pen that captures a digital likeness of one's work. It's designed for rough conception and creative brainstorming; Inkling is ideal for the front end of the creative process.
Not only can it capture one's sketch stroke by stroke, but it also allows the creation of layers in digital files while the sketcher is on paper. The digital files are transferred to one's computer using the Inkling Sketch Manager software. The files can be exported to an application such as Adobe Photoshop and Illustrator. Files can also be opened with the included Inkling Sketch Manager software to edit, delete, add layers or change file formats.
Sketch your ideas on standard paper or sketchbooks while capturing a digital likeness of your sketch.
Store hundreds of sketches on the receiver before transferring them to your PC or Mac.
Files can be saved in: JPG, BMP, TIFF, PNG, SVG and PDF for use with other applications.
Inkling is due to be released in mid-October.