Gingrich makes campaign stop in Monroe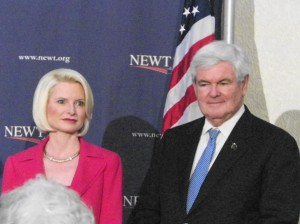 Presidential candidate Newt Gingrich visited Monroe Tuesday.  Gingrich stopped by the Atrium Hotel on Louisville Avenue to address supporters and rally his troops for the upcoming primary this Saturday.
Gingrich hit the hot-button issues such as gas prices and domestic drilling.  He received much applause from the audience in his criticism of President Barack Obama on his domestic drilling policies.  Gingrich also tagged some social issues such as religion.
"Our elites have grown increasingly and aggressively anti-religious," Gingrich said. "Our country's founding document says 'We are endowed by our Creator with certain unalienable rights.'" Gingrich again slamming the elitist in the United States, as he has throughout his campaign.
Gingrich also mentioned he would abolish the White House "czars," and that bureaucrats in Washington are inhibiting small businesses.  He tackled Obama for denying the Key Stone pipeline, which Gingrich says would have created many jobs for Americans, and reduced gas prices.
"I want to create jobs in Louisiana, not Brazil," Gingrich said, noting that Pres. Obama stated that he wanted America to be Brazil's "number-one customer."
A few of ULM's own faculty attended the event, with political science professor John Sutherlin among them. Sutherlin, the faculty adviser for the College Republicans, told the Hawkeye that as long as gas prices stay where they are, Obama is in good shape, and that if the economy ever picks up any Obama is going to be hard to beat by anybody, whether it's Gingrich, Santorum, Romney, or even Paul.
Gingrich's stop in Monroe was the fourth campaign stop in the day, having also visited Shreveport, Louisiana Tech and Choudrant. He isn't the only presidential candidate scoping out northeast and central Louisiana.
"Ron Paul is supposed to be in Alexandria on Friday, and might be coming to Louisiana Tech," said Ruth Ulrich, the Republican National Convention vice chair for the Southern Region.  Paul will be making an appearance at Louisiana College in Pineville, and Southeastern. But there is no official word of Paul visiting Monroe.
A third Republican candidate, Rick Santorum, is scheduled to hold a "Rally for Rick" at the Ouachita Parish Shooting Range on Friday at 10:00 AM.
Staff writers Andrew McDonald and Garrett Boyte contributed to this report.