Blankvoort named All-Conference in tennis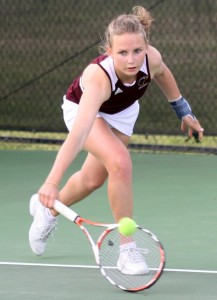 For the first time in her career, junior Medy Blankvoort has been named to the Sun Belt Conference All-Conference Team in single's play.
The honor was announced Wednesday by the league's office.
Blankvoort's one loss in single's play guaranteed her a spot among this year's best in the conference.
She finished the regular season with a perfect record of 6-0 at number three singles. In addition, she went 1-0 and 3-0 at number one and number four, respectively.
Her only defeat of the season was at the number two singles spot on April 13 against the University of Alabama at Birmingham's Isabelle Fernandez in three sets 6-2, 2-6 and 6-4. She finshed the regular season 5-1 at the number two single's court.