Idaho Vandal-ized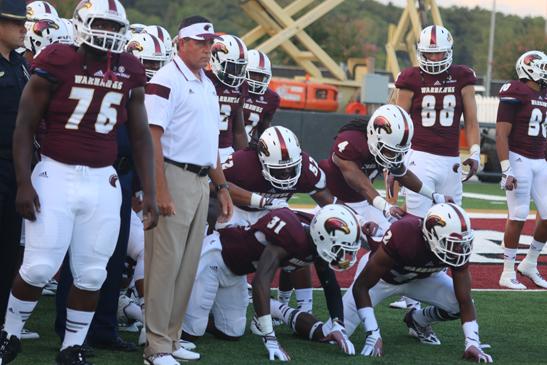 Dakota Ratley
September 7, 2014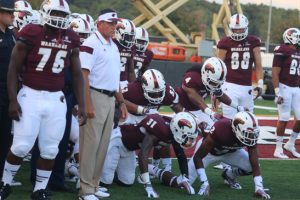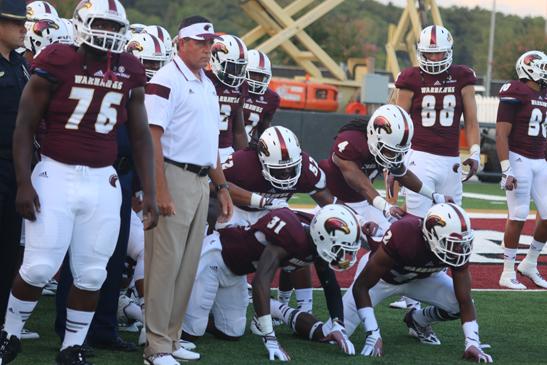 Fighting the thunderstorms and a late Idaho rally, ULM pulled out a 38-31 win Saturday night at Malone Stadium.
Todd Berry said he was relieved to get the win.
"It wasn't clean, it wasn't pretty, we certainly have a lot of work to do but it's a win," Berry said.
Centarius Donald led the way once again for the Warhawks tallying up 118 rushing yards with three touchdowns. Pete Thomas also came up big totaling 384 yards with two scores.
The Vandals got on the board first after a 75-yard drive that ended with a touchdown pass from quarterback Matt Linehan to Joshua McCain.
 The Warhawks responded later in the first quarter when Pete Thomas completed two-yard pass to tight end Alec Osborne to even the score at 7-7. 
ULM's defense locked down Idaho for a quick three-and-out.
 The offense took advantage when Thomas hit Ajalen Holley for a 58-yard touchdown.
Holley recorded 175 receiving yards in the day.
"This was a game we knew we were going to be able to come in and show are passing skills, show what Pete could do and show what our receivers could do," Holley said.
Right after the first ULM score, lightning was recorded within two miles of the stadium. NCAA rules mandated at least a 30-minute delay from the last lightning strike. That delay lasted for two hours and six minutes.
Idaho's season opener at Florida was cancelled due to lightning.
When play resumed, ULM's defense forced an Idaho punt. ULM quickly moved down the field and scored when running back Centarius Donald broke through the Idaho defense for a 34-yard touchdown run.
Idaho answered back on a three-yard carry from running back Elijhaa Penny.
Idaho continued to build momentum picking a deep Pete Thomas pass. 
The Vandals capitalized on the mistake and scored when quarterback Matt Linehan connected again with Joshua McCain from 10 yards out for another touchdown.
Justin Manton shifted momentum back in the Warhawk's favor when he tacked on three points with 13 seconds left in the half to bring the halftime score to 24-21 ULM.
That score stuck until a turnover deep in Idaho territory set up a 21-yard run by Centarius Donald to put the Warhawks up 10 with 8:36 left in the third quarter.
After a second straight Vandal turnover, the Warhawks failed to convert a fourth down attempt in the red zone.
Idaho marched down the field and kicked a 28-yard field goal to make it a one score game with 13:59 left in the final quarter of play.
The Vandals would go on to tie up the game with 4:22 left after a 11 play, 64-yard drive capped off with a 32 yard touchdown pass from Linehan to Deon Watson.
After exchanging scoreless drives, Pete Thomas led the Warhawks 73 yards to score the game-winning touchdown on one-yard run from Centarius Donald.
 That was Donald's third touchdown run on the day.
 It came with only 9 seconds left on the clock.
"Nobody thought or doubted that we wouldn't win the game," running back Tyler Cain said.
Cody Robinson clinched the game for the Warhawks with an interception on Idaho's Hail Mary attempt.
The Warhawks will head to Baton Rouge to face LSU next Saturday in a matchup of unbeaten teams.  The Tigers defeated Sam Houston State 56-0 Saturday.