Cheerleading shines on national stage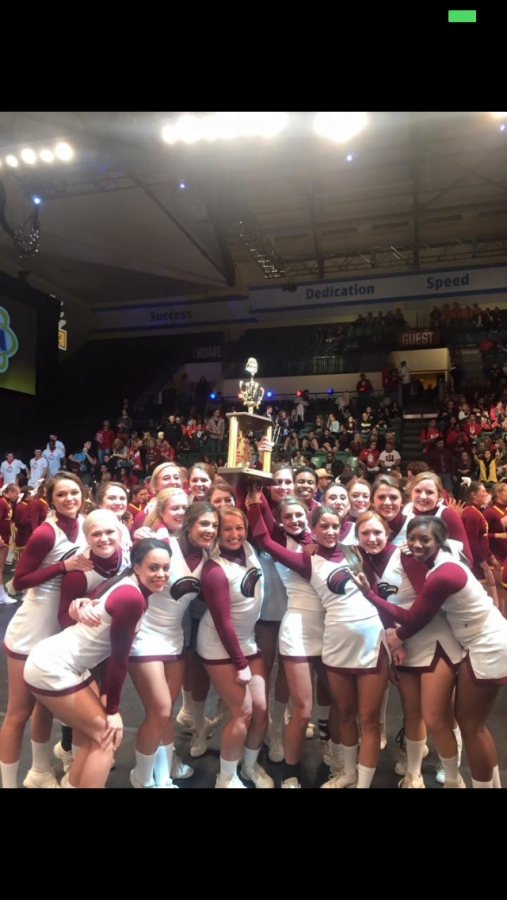 Dakota Ratley
February 1, 2015
What is something that is gold, shiny and can make a 20-year-old college girl cry? No, the correct answer is not a ring. It's a trophy for a top-five finish at the Universal Cheerleaders Association National Competition.
Junior cheerleader Kelsey Osbon said that they had talked the night before about how emotional they would be if they won.
"When they got passed fifth place and we knew we were top-five, tears just coming down. It was crazy,"Osbon said.
The top five consisted of Alabama, Indiana, San Diego State, ULM and the University of South Florida.
Coach Peaire Allison said that that a top-five finish was not an easy feat to achieve.
"Top-five was a dream that they had that nobody believed in. We just kind of went for it," Allison said.
This marked the first year that ULM competed in the all-girl bracket for Division 1. ULM has traditionally fared well in the small co-ed division. The past 10 years have brought three national titles as well as seven other top-10 finishes.
The key to this consistency has been hard work, Allison said. He said that the girls gave up their Christmas breaks in order to work on their routine.
Osborn said that the coaches pushed them to do their best. She said that they were scared of the coaches making the routine easier if they could not stick it consistently. This gave the squad motivation to keep working hard on the mat.
The cheerleading squad was on display at the nationals show-off Jan. 13 in Brown Gym. The squad had multiple blunders that tested the team's commitment and resolve.
However, Alyssa Fontenot said that those mistakes only increased the team's want to succeed. She said that she was grateful that the mistakes happened at local performances so that the team would have time to learn from them.
"By the time nationals rolled around we had motivation and that confidence built up," Fontenot said.
"To do your very best, like your very, very best on the mats in front of the judges when it matters most, in finals, is really just an accomplishment and a win all in itself."
The team will get right back onto the mats. Open practices begin on Feb. 4 and the team will put on a clinic on Feb. 21.