SGA leaders give new goals
Environmental concerns tops list of future improvements
There comes a time when old leaders step down so new leaders can pave the way.
They are big shoes to fill, but the SGA President, Kaitlin Neal, and SGA Vice President, Bryson Belaire, have big plans and big ideas in an attempt to make the campus better.
Neal and Belaire have both been apart of SGA for three years, both serving as senator and secretary at one point in their SGA career.
Neal and Belaire are both handworkers and lovers of SGA. They said those qualities helped them secure their position as President and Vice President of the organization.
"In everything that I do I'm very passionate about it, and I'm going to give 110%," said Neal. "I am dedicated to the organization."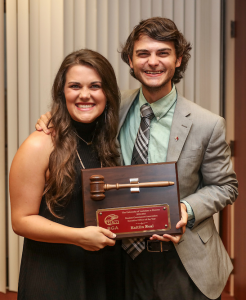 Belaire said he loves that their main goal is to represent the students' voices. "[SGA] is an organization that has given me ample opportunities to give back to this campus."
The SGA organization has three projects, dealing with the environment as part of a plan for the school year that they hope will leave an impact on ULM.
Neal said one of the goals of these projects is to get students outside.
"We want to redo the dock that we have right there in bayou park," said Neal. "That's somewhere I sat a lot my freshman year, but it would be awesome if it was bigger."
Neal said that Interim Vice President for Student Affairs, Camile Currier, has already spoken with the National Guard and spoken with Lowes to discuss giving wood for the dock.
Students will see a charging station on campus some time this year.
"It's going to be a big umbrella right outside of Starbucks," said Neal. "We're just trying to buy the table right now."
Neal said student feedback will determine whether or not more charging stations will be placed around campus.
Beside Starbucks, other future charging station locations will be inside the SUB and perhaps outside of the Schultz cafeteria.
SGA Senator, Cody Crnkovic, suggested a plan to build water bottle refill station next to the water foundation.
"We have been doing a bit of research," said Neal, "so that might be something that we can implement this year too…maybe in the SUB. That way you don't have to go and buy a styrofoam cup to get water."
Neal has met with other SGA presidents in the UL system to come up with a service idea students can participate in.
"I want us to do a lot more events on campus, but I also want us to do some service too," said Neal.
Neal plans on getting students to send out care packages to the military.
Belaire and Neal are encouraging students to speak up and voice their opinions.
"We really want SGA to be a source of confidence for students," said Belaire. "They can come to us with their worries and ideas and know something will get done about them."