The Hawkeye is back in the national spotlight
Stunned, shocked, surprised. Many are the adjectives that can be used to describe The Hawkeye's staff after being announced as third place for "Best Newspaper" at the College Media Association's annual conference held March 7-11 in New York City.
Accompanied by assistant director of Student Publications, Kristin Nieman, nine members of the paper's inner staff spent five days in the Big Apple. The conference hosted almost 200 sessions and featured a wide range of speakers from all over the communications field.It was the second time in four years that The Hawkeye won third place for "Best Newspaper" in its category of four-year schools with student populations between 5,000-10,000.
The last time the paper won third place was in 2015 with a staff led by then editor-in-chief Ashley Lyons.
"When my staff won this award a few years ago, we were completely taken by surprise, but I'm not surprised to see this new staff win it. I was actually pretty confident this would happen again and it couldn't have happened to a better group," Lyons said.
The Hawkeye was beaten by American University, a private school in Washington, D.C., and California Baptist University, a private school in Los Angeles, Calif. That wasn't the only award the staff brought home from New York.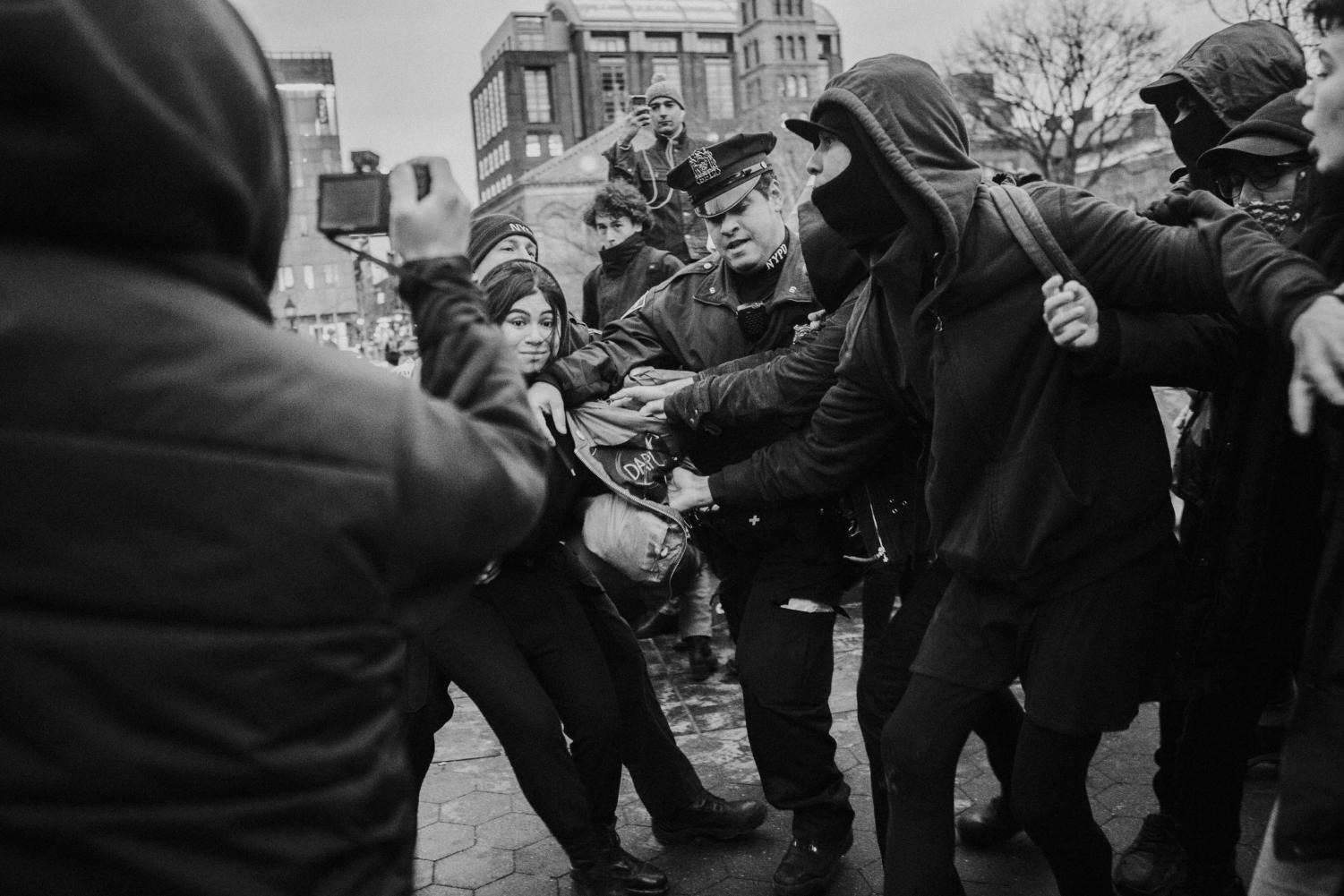 Siddharth Gaulee, a junior communication major and The Hawkeye's art director, won third place for "Best Photographer" in an on-site photo competition.
"Getting to compete against some of the best college photographers in the country and being recognized among them was truly an honor," Gaulee said.
Gaulee's picture was taken during the International Women's rally on March 8, 2018, held in Manhattan's Washington Square Park.
The picture depicted an altercation during the rally between a woman holding a sign that said "Women for Trump" and many other attendees at the rally.
The Hawkeye's faculty advisor and student publications director, Dr. Mapp congratulated his students via text message moments after hearing of their success.
"Competitions and conferences like this do wonders for our students' confidence because they leave understanding they are just as qualified and just as competent as students anywhere in the country. They're getting a world-class education right here in Monroe for a fraction of what it costs to attend some of these schools," Mapp said.
New York wasn't The Hawkeye's first taste of success this year. In February, The Hawkeye won six awards at the Southeastern Journalism Conference held at Harding University in Searcy, Ark.
Former editor-in-chief Cory Thaxton, won tenth place for "Best Feature Writer."
Ethan Dennis, current editor-in-chief, won fifth place for "Best Special Event Reporter/Editor."
Advertising director Clarence Nash Jr., won third place for "Best Print Advertising Staff Member."
Photo editor Prajal Prasai, won second place in the on-site competition for "News and Feature Photography."
The paper also won eighth place for "Best Newspaper" and seventh place for "Best Website."
This was the first year The Hawkeye has placed within the top 10 for "Best College Newspaper" at SEJC.
"After having worked very close with last semester's staff, I was extremely proud to accept awards on their behalf," Dennis said.
"As current editor-in-chief and recent SEJC award winner, I hope to continue building The Hawkeye's legacy."
The Hawkeye, the independent student-run newspaper at ULM, competes in three different competitions in the spring.