Stress rampant among college students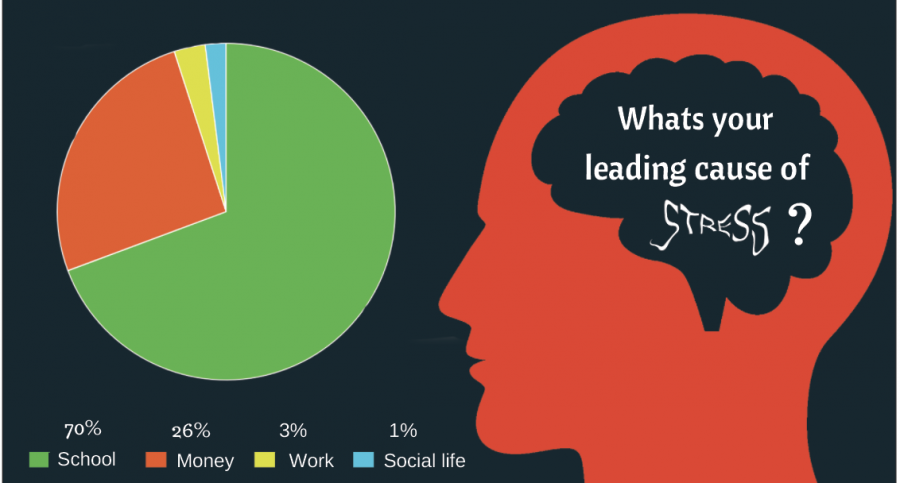 Stress is a universal epidemic, and according to recent studies, Louisiana residents are the most stressed in the country. If living in a stressed state wasn't enough, being a university student has been shown to cause an equally big amount of stress in itself. A mental health study by the Associated Press and mtvU in 2008 determined that eight out of 10 college students experienced frequent stress over the previous three months. The numbers haven't changed much this past decade.
The state ranked fourth, third, eighth and third in work, money, family and health-related stress respectively.
Jewel Guidry, a sophomore elementary education major talks to her friends often about how going to college is like paying to get stressed.
"The benefits of college are pretty obvious but sometimes, the schedule gets very overwhelming," Guidry added.
However, Guidry believes that if students manage their time properly, a stress-free college life is possible.
Other research points to the excessive use of social media. Half of college students say they've woken up in the middle of the night to answer a text. Excessive use of social media has caused lack of sleep and anxiety, the gateway to more psychological problems.
Rudhan Ghimire, a freshman biology major, says that social media has a big effect on his schedule. He realized that he spends too much time scrolling through his social media.
"I am a big procrastinator, and social sites have helped me continue to be one. I always end up with a pile of work to do around the deadline, causing stress that I cannot deal with," Ghimire said.
Ghimire has now started to be more conscious about the time he spends online and tries to invest his time doing productive work.
Living online, students rarely spend actual time with their friends. This leads to loneliness.
Student-athletes especially face problems dealing with an exhausting schedule. In an American College Health Association survey nine percent were diagnosed with insomnia in the previous 12 months, 45 percent reported to have faced overwhelming anxiety in the same period.
Rebekka Schubert a freshman psychology major and an athlete. Schubert is an international student from Germany. Even though she was used to combining academics with athletics back home, she has faced more work to do by herself here.
"Being an athlete and student makes it hard to manage everything like getting enough sleep, eating the right food, rehabing, stretching and proper recovery," Schubert added.
Students have turned to religion and friends to help them cope.
"Spending time with God at the church gives me more confidence. While preparing for a test, this helps me more than studying reluctantly," Schubert said.
Guidry also has similar methods to deal with her problems. She is involved with Chi Alpha, a Christian fellowship organization on campus.
"I also play my guitar or go for a walk at the Black Forest National Park. I even call my parents or spend time with people I love. Sometimes, some time alone helps too," Guidry said.
Life in college has been proven to be stressful, but students deal with this problem with the help of counseling centers on campus. The on-campus counseling center routinely holds workshops teaching students how to cope with stress.