Men's basketball roasts Ragin' Cajuns at home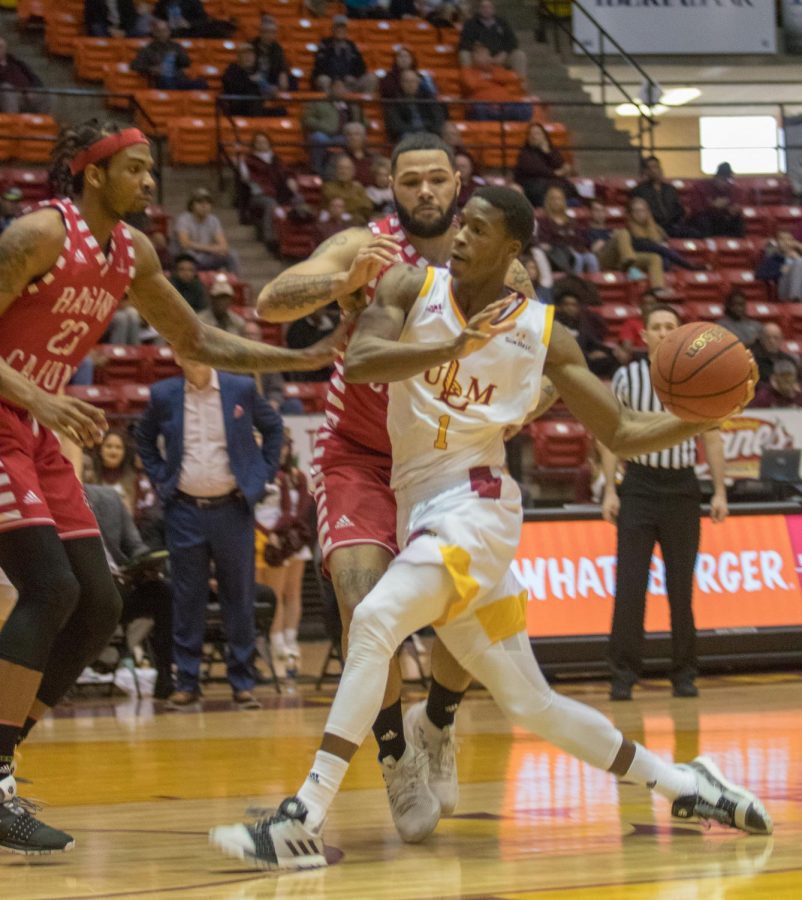 After a 17-6 run ended in a monstrous alley-oop slam from junior guard JD Williams, it was clear that the Warhawks were going to put on a show for the packed stands of Fant-Ewing Coliseum.
Despite the game coming down to the final seconds, ULM was able to shut the door on ULL with a 99-95 victory. The much-needed win comes off consecutive heartbreaking road losses that saw the Warhawks lose in the final seconds of both games.
Sophomore guard Michael Ertel, responsible for 23 points, two rebounds and two assists of his own, said the win was big for the team.
"You know after those two buzzer-beater losses last weekend in Georgia, we were itching to get back on the court and get a win under our belt," Ertel said.
The win comes off the back of good games from multiple Warhawks. Shooting nearly 50 percent from the court, ULM was putting on a scoring clinic the entire game.
Guard Daishon Smith led the way with 27 points, seven rebounds and eight assists while knocking down four 3-pointers of his own. Williams was also everywhere on the court, scoring 15 points while leading the team in rebounds with nine.
"I think we are really deep," Ertel said after the game. "We've got about four or five guys that could be the leading scorer on any given night, so I think that makes us really hard to guard."
While ULM did score 99 points, ULL was able to tack on 95 points of their own. The Cajuns managed to string together a late comeback in the second half despite being down by as much as 22 points to the Warhawks.
The gap began to close in on the Warhawks with under two minutes left when the Cajuns went on an 8-1 run that brought them within three points, 87-90.
It wasn't enough in the end though as the Warhawks tacked on nine more points behind a big 3-pointer from Ertel and six free throws from Smith to put the nail in the coffin.
The Warhawks will look to keep the hot play going as they host conference rivals, the Troy Trojans. The game is set to tip-off on Thursday, Jan. 24, at 7 p.m. in Fant-Ewing Coliseum.