Men, women's golf sweep player of week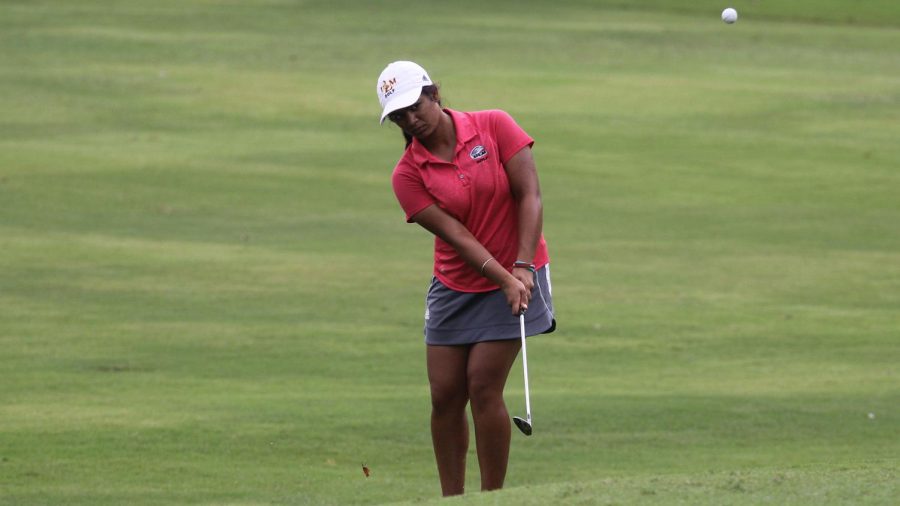 Both the men's and women's golf team opened up their season this week.
Each team had an individual perform to their potential.
For the women, it was junior Jahaanvie Walia who finished in third place at the South Alabama Intercollegiate and shot five-under-par.
For the men, it was senior Frenchman Guillaume Fanonnel who was the runner-up at the UTSA/Lonestar Invitational and shot an eight-under-par.
Fanonnel had his best individual success of his career by finishing as the runner-up, just one stroke off the lead set by Lipscomb's Nolan Ray.
Fanonnel's performance was good enough to get him the first Sun Belt Conference Golfer of the Week for the 2019-20 season.
"G wants to be inside the top 100 players in college golf this year," said Tim Baldwin, director of golf. "He wants to put himself in contention every week and be a legitimate threat every time he tees it up. We are hoping his attitude and drive for success is contagious with the team."
Fanonnel started hot in the first round and shot a 68 in the first round, good for three-under-par.
His hot start did not end there as he shot a 69, four-under-par.
Even in the final round, Fanonnel stayed under par and shot a one-under-par, 71.
"Congrats to Guillaume on his second-place finish this week in San Antonio," Baldwin said. "He was very composed all week taking care of his business."
Walia, the reigning Sun Belt Conference Newcomer of the Year, like Fanonnel, would play her way into winning the inaugural Sun Belt Conference Women's Golfer of the Week with her performance in Mobile, Alabama.
"Jahaanvie is playing some great golf right now," Baldwin said.
Walia had a good weekend from start to finish, with a final score of five-under-par over the weekend in Mobile.
In the first round, Walia shot a three-under-par 69 which had her tied for fourth place.
The solid first-round put her in position to succeed on day two.
Walia had her least successful round on day two where she shot a one-over-par, 73.
Walia finished tied for fifth place.
The last round was Walia's best round and she shot another 69 moving her to third place in the tournament.
Beyond coming in third, Walia carded the second-most-pars out of anyone on the tournament with 41.
"I look forward to [Walia's] continued progress and growth in the game. It's nice to see her making some putts as of late. Jahaanvie is a good ball striker and just needs to take advantage of her opportunities," Baldwin said.
Both teams have a second tournament in Sept. as the men's team travels to Birmingham, Alabama, Sept. 23, to participate in the UAB Invitational at Greystone.
The women pick back up Sept. 28 and 29, when they travel to Palm Desert, California, to compete in the Wyoming Cowgirl Desert Intercollegiate.