ULM travels to Texas State to play Thursday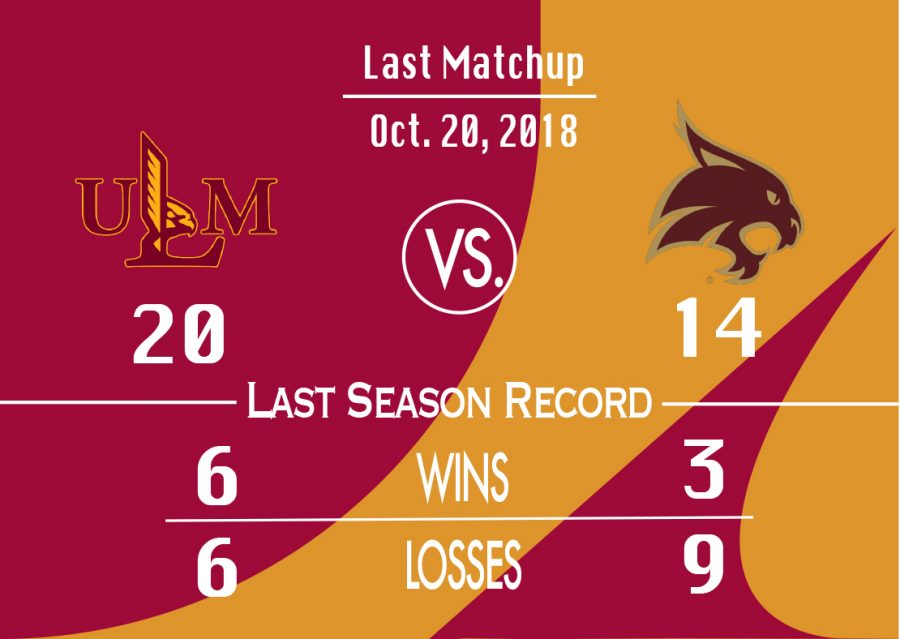 The Warhawks will travel to Texas State to take on the Bobcats Thursday night after their clash against number 23 Memphis.
ULM historically has had the Bobcats number winning the last three contests and four of six as a whole. This year should be no different.
Texas State is 2-3 on the year, with two blowout losses to Texas A&M, 41-7, and SMU, 47-17. A close lost to Wyoming, 23-14 rounds out their losses.
The Bobcat wins are less convincing beating conference opponent Georgia State, 37-34 in triple overtime and Nicholls State, 24-3.
Even with the last two wins, the Bobcats are getting outscored by an average of more than 10 points a game.
For the Warhawks to take advantage, they must attack Texas State's poor run defense.
This year, the Bobcats have given up over 1,100 rushing yards in five games. The Warhawks should be able to run down their throat.
When the Warhawks drop back to pass, they should not expect a particularly strong pass rush, as the Bobcats only have four sacks on the year, with two coming from Nikolas Daniels.
Jarron Morris is another Texas State player that ULM will need to identify on tape as he has two interceptions to start the year.
Daniels is the one front seven player to worry about as he also has five tackles for loss to go along with his two sacks.
Defensively, the Warhawks will have an opportunity to create turnovers.
On the season, Bobcat quarterbacks have thrown eight interceptions. ULM defensive backs need to be prepared for an interception.
The defense also should have an opportunity to get after quarterback Gresch Jensen.
Texas State has given up 15 sacks through five games.
While Jensen has been sacked and turned the ball over, he has put up numbers with 1,121 yards and five touchdowns.
The Warhawks will need to stop him to stop the Bobcats' offense.
A way to slow down Jensen is to stop his number one target, Hutch White who already has 31 receptions this year.
The next highest receiver for the Bobcats is Jah'Marae Sheread with 17 receptions.
The in-house cleaning the Warhawks must do is cleaning up the kicking game.
Both Jacob Meeks and Jared Porter have missed kicks and extra points. Coach Matt Viator must get the kickers more consistent.
The Warhawks need to use Texas State as a tune up game before facing off against preseason Sun Belt favorite Appalachian State in Boone, North Carolina.