T&F wrap up indoor season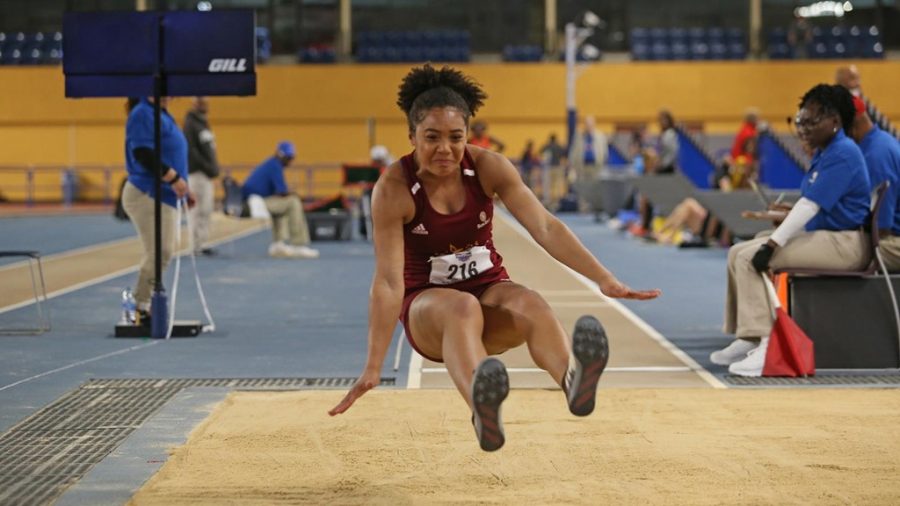 The third win happened to be the most important win for long jumper, Jasmine Scott-Kilgo, who won her first Sun Belt Conference Indoor title in the event of her career with a jump of 19 feet, 11 inches at the Birmingham Crossplex.
Scott-Kilgo would be one of five Warhawks to finish in the top three of their events during the indoor championships, she would be one of two Warhawks to win an event.
The other winner was junior Brianna Sam who won her second-straight conference indoor title in women's weight throw. Her throw of 66 feet and one and half inches would mark a school record.
For the men the best performers Sam Healy and Eric Hawkins who both finished in second in their respective events of long jump and 800 meter run.
Hawkins' run of 1:52:04 would mark an indoor personal best for him.
The other podium performer was Micaiah Dendy who stood on the podium for the third time in her career in the women's triple jump at the Sun Belt Indoor Championships, finishing third in the event with a mark of 40 feet and one and a half inches.
Personal bests were set by more Warhawks than just Hawkins as weight throwers Alivia Busch, Jadyn Walden and Hannah Blood all set personal bests during the indoor championships.
In addition to his second-place finish, Healy also set a personal record in 60-meter hurdles, narrowly missing the podium with a fourth place finish.
Reggie Shallowhorn set a personal-best in men's high jump while placing sixth.
Two more Warhawks set personal records in Kiprotich Mitei and Jacob Houston.
Mitei set his in men's 3000-meter steeplechase. Houston set his in men's weight throw, out throwing his previous distance by a staggering three feet.
The Warhawks now move onto the outdoor season with one home event on April 10 and 11.