Trojans terminate ULM's undefeated season
Loss snaps best start to season in school history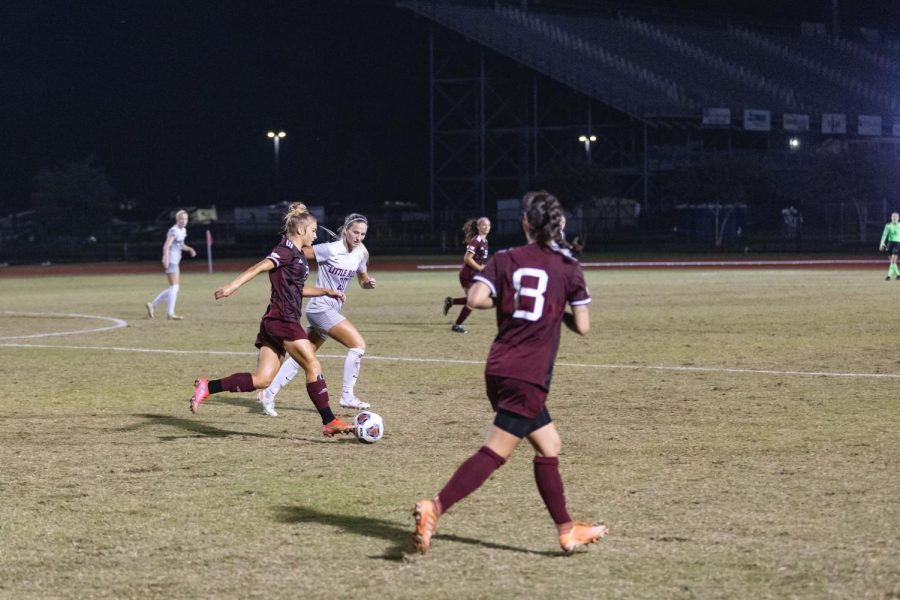 The Warhawks' (7-1-1, 1-1-1) early undefeated season campaign came to an end on Friday night against the Little Rock Arkansas Trojans (6-4-3, 2-0-2) in a 2-0 loss.
Both teams were stifling offensively throughout the whole game. ULM, which is ranked second in the country in scoring, was held to zero first half points for the first time since facing the Grambling State Tigers on Aug. 29.
ULM was riding on a seven-game winning streak and looked on-edge to score in the first half.
The Warhawks controlled much of the possession, getting two shots and limiting the Trojans to four.
At the beginning of the second half things began to take a turn in favor of the Trojans.
Little Rock quickly scored the first goal to take a 1-0 lead on the Warhawks in the 52nd minute of the second period.
The Warhawks attempted to answer back with a game-tying opportunity from freshman Taylor Henry at the 63rd minute but were denied by the Trojans' goalkeeper Saskia Wagner.
With Little Rock having momentum in the second half, the pace of the Trojans slowly began to dismantle the Warhawks, causing the team to miss many game-tying opportunities.
The Trojans scored again in the 76th minute extending the lead to 2-0. This goal came off of a defensive miscue from ULM.
The Warhawks were off their game on both sides of the ball in the second half.
There were many missed opportunities by the offense having seven shots that did not hit the back of the net.
ULM was seeking their first consecutive Sun Belt Conference play wins since opening conference play 3-0 in 2016.
Although this is a tough loss for the Hawks, head coach Sean Fraser and his squad will look to bounce back as they continue to move through conference play.
ULM will be back in action against the Arkansas State Redwolves on the road this Thursday at 1 p.m.